March 2, 2022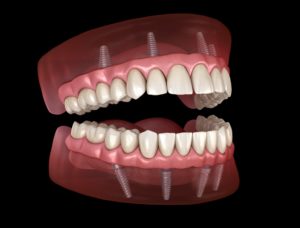 If you've lost all your natural teeth, don't settle for anything less than the best. If you are ready to add the support of dental implants to your denture, you are making a great investment. The implant posts will serve as roots, anchoring your denture to your jawbone. You'll enjoy a nearly perfect replica of your real teeth to say goodbye to slipping and irritation for good. However, it's going to take time to adjust to implant dentures. Don't worry, here are 4 tips to make the transition easier.
1. Manage Any Discomfort
Your implant placement surgery is the first step to rebuilding your smile. After the effects of any sedatives or anesthesia dissipate, you can expect your mouth to be sore. You can manage any discomfort using a prescribed or OTC pain reliever. You can numb the area temporarily by applying a cold compress to the outside of your face. It will also help reduce inflammation and bruising.
2. Watch What You Eat
Whether choosing a traditional implant denture or a same-day solution, you'll have to watch what you eat. Too much pressure on the implant posts can affect the healing process. Your jawbone must fuse to the posts through a process called osseointegration to be successful. Your implant dentist will recommend a liquid diet for the first couple of days. You'll then be instructed to eat softer foods to allow your bone to heal, like yogurt, mashed potatoes, or soups. After your bone has integrated with the posts, you'll regain up to 70% of your natural biting force to enjoy all your favorite foods again, including steak.
3. Your Speech Will Improve
Your teeth are important for more than biting and chewing. They also affect your speech clarity. While dentures make it easier, they can feel bulky in your mouth. You might worry about your teeth slipping or falling out when talking. You can speak clearly and confidently, knowing your denture will stay in place. It may take a few days to get used to your new denture, but practice makes perfect. In no time at all, you'll speak easily to minimize any miscommunications.
4. Your Confidence Will Increase
As you adjust to your new life with implant dentures, you'll notice your confidence steadily growing. You won't have any more anxiety about hiding your denture when smiling or taking a picture. You might even find you're more outgoing and your outlook on life has improved.
Adjusting to implant dentures is easy and worth the time to benefit from a solution that can last for decades. Your implant dentist will explain what you can expect while on your journey to a complete smile.
About Dr. Andrew Barnett
Dr. Barnett earned his dental degree at the University of Pittsburgh before earning his Masters of Science and Certificate in Periodontics. He has the training and qualifications to handle the most complex oral health needs, like dental implants and bone grafting. Contact our office today to schedule your consultation to achieve the smile you deserve.
Comments Off

on 4 Tips for Adjusting to Implant Dentures
No Comments
No comments yet.
RSS feed for comments on this post.
Sorry, the comment form is closed at this time.