February 20, 2022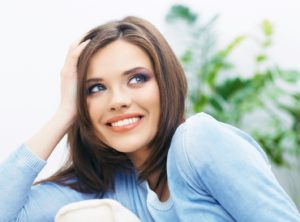 If you have excess gum tissue that makes you feel self-conscious about your appearance, you might be thinking about undergoing gum recontouring. This minimally invasive procedure can trim away extra tissue, revealing more of the underlying tooth enamel and improving the proportions of your smile. Of course, you may wonder about the cost of gum recontouring. Let's talk about some of the factors that determine its price.
The Extent of the Gum Recontouring
Many specialists and dentists charge a per-tooth fee for gum recontouring. Logically, it will take less time and effort to trim the gums near one tooth than to do the same for all of the teeth that are visible when you smile. Per-tooth fees can vary greatly between practices, so be sure to ask your dentist or periodontist about their rates. On average, it costs a few thousand dollars to trim the gums near a significant number of teeth.
Insurance Coverage
By and large, gum recontouring is considered an elective, cosmetic procedure. Therefore, the vast majority of insurance policies will not cover it. However, there are exceptions to the rule. If your periodontist determines that your excess gum tissue poses a threat to your oral health, your insurance might offer coverage. This may be the case if contouring the gums is necessary before placing a crown over a severely damaged tooth.
Associated Fees
The cost of gum recontouring is only one fee that you may have to pay. Anesthesia and sedation usually cost extra. There are various types and levels of sedation, with nitrous oxide being the mildest and (often) the least expensive. Oral conscious sedation and IV Sedation are more powerful and typically cost more.
Your Dentist's Qualifications
Some general dentists offer gum recontouring, and they may be quite good at it. However, they are not gum specialists. Generally, it is best to turn to a periodontist for this procedure. After dental school, periodontists complete years of extra training to become true experts in all things related to the gums. They may charge a bit more than other providers, but the peace of mind you get from choosing a specialist is well worth it.
Help to Afford Gum Recontouring
If the upfront cost of gum recontouring is more than you feel comfortable paying, ask your dental office if they accept CareCredit financing. CareCredit is a lender that specializes in providing low-interest and no-interest payment plans for medical and dental services, including cosmetic procedures. Most people are approved for credit, and the application takes just a few minutes.
Gum recontouring can transform your smile, bolster your confidence, and promote your oral health. Although it may present a significant upfront cost, it is well worth it!
Meet the Practice
Drs. Andrew Barnett and Marshal Goldberg have many years of combined experience in periodontics. They work together to provide a broad range of specialized services, including gum recontouring. They do their best to respect patients' budgets, and they accept CareCredit financing. To learn more about them and how they may be able to help you enjoy a more beautiful smile, contact our office at 214-691-2614.
Comments Off

on How Much Does Gum Recontouring Cost?
No Comments
No comments yet.
RSS feed for comments on this post.
Sorry, the comment form is closed at this time.