Dental Implants – Dallas, TX
Laying the Roots of
a Great Smile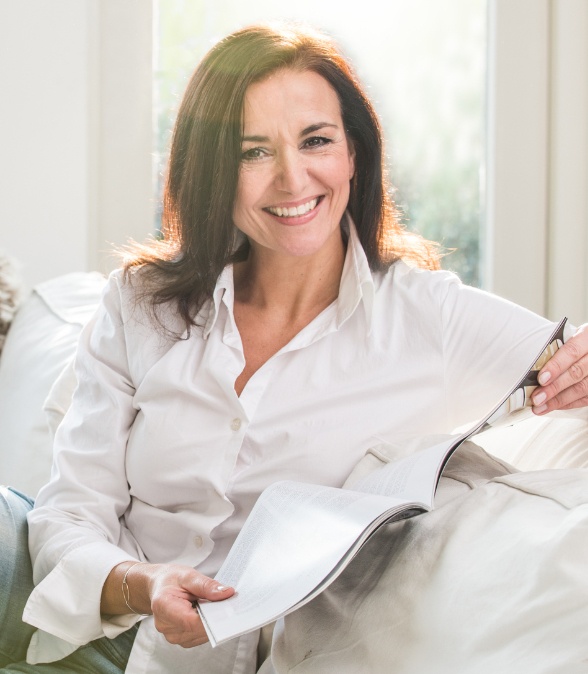 First used in 1965, dental implants have changed the way that dental professionals approach tooth loss. Now there's a way to replace the roots of missing teeth, giving the restorations they support additional stability and chewing power. And thanks to the technology and techniques that have been developed over the years, it's easier than ever to place them efficiently and successfully. Get in touch with Dr. Barnett and the rest of our team today to schedule a consultation to discuss tooth replacement with dental implants in Dallas, TX.
Why Choose Lincoln Park Periodontal and Dental Implant Group for Dental Implants?
Partnered with Dallas's Best Restoration Specialists
Dedicated to Current, Evidence-Based Treatments
Experienced Periodontists Who are Always Honest
What is a
Dental Implant?
A dental implant is a small post usually made out of titanium. Looking at it by itself, you might be confused about how it's supposed to replace a tooth. That's because the implant is incomplete by itself; its purpose is to act as an artificial tooth root for a restoration such as a crown or a bridge. What makes implants truly unique compared to other tooth replacements is that they fuse with the jawbone and effectively become part of your body.
Benefits of Dental Implants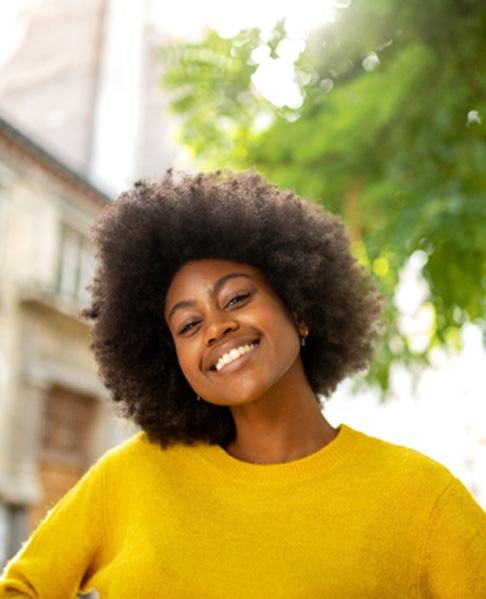 Traditional tooth replacements such as dentures and dental bridges still have their merits, but dental implants have many unique benefits that you simply wouldn't see with other options. There's a very good reason why over 3 million people in the United States have chosen dental implants to fill the gaps in their smiles.
Day-to-Day Benefits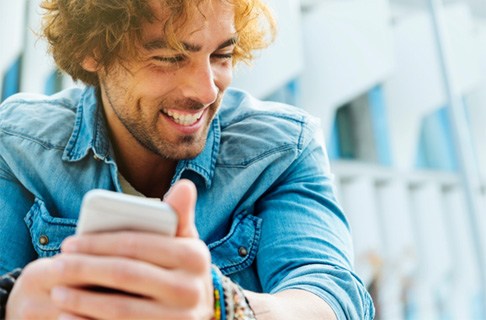 You'll use your new teeth every day to eat, speak, and smile. As such, you'll notice these benefits daily:
Natural Look and Feel: Dental implant restorations are color-matched to the rest of your smile, letting them blend in so well that most people won't even realize you've had a tooth replaced. Meanwhile, dental implant posts feel so natural that some patients occasionally forget that they're there.
No Diet Restrictions: Certain foods are difficult to eat with traditional dentures. However, dental implants have almost as much chewing power as your natural teeth, allowing you to eat whatever you want.
Easy Maintenance: Taking care of dental implants isn't much different than caring for your natural teeth. You simply need to brush and floss twice a day like you normally would; you should also continue visiting your dentist twice a year for regular checkups and cleanings.
Health Benefits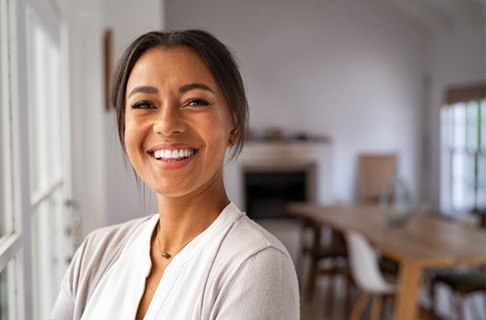 Since dental implants mimic your natural tooth roots, they offer several unique health benefits, such as:
Preventing Bone Loss: The stimulation of the implant posts encourages blood flow in the jaw. This helps prevent the deterioration that occurs after tooth loss, thus helping you maintain a stronger, healthier jawbone over the long term.
Healthier Lifestyle: People who wear dentures often have trouble practicing good nutrition because there are limits on what they can eat. Since dental implants don't have any dietary restrictions, you'll find it much easier to plan a healthy diet that provides all the nutrition you need.
Lower Risk of Oral Health Issues: Compared to other tooth replacements, dental implants are very easy to keep clean. As such, you are less likely to have to experience oral health issues that can occur as a consequence of poor oral hygiene.
Long-Term Benefits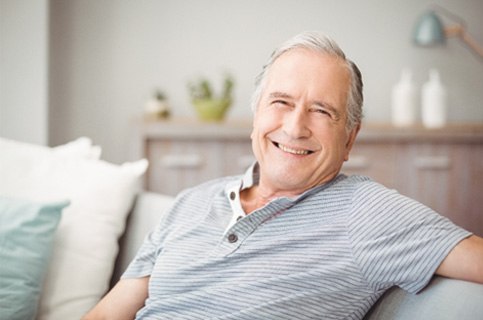 There are several dental implant benefits that you'll only be able to fully appreciate over the long term. Some examples include:
A High Success Rate: Dental implants have been shown to be extremely reliable. Even implants that have been in the mouth for 20 years have a 95% rate of success.
A More Youthful Appearance: Because dental implants prevent bone loss in your jaw, they can often help you avoid the facial collapse associated with tooth loss that can make you look older than you are.
Long Lifespan: Dental bridges and dentures usually last around 10 years. Dental implants, meanwhile, can last for 30 years or more with minimal maintenance. In fact, many patients can keep the same dental implant posts for the rest of their lives!
Who Dental Implants Can Help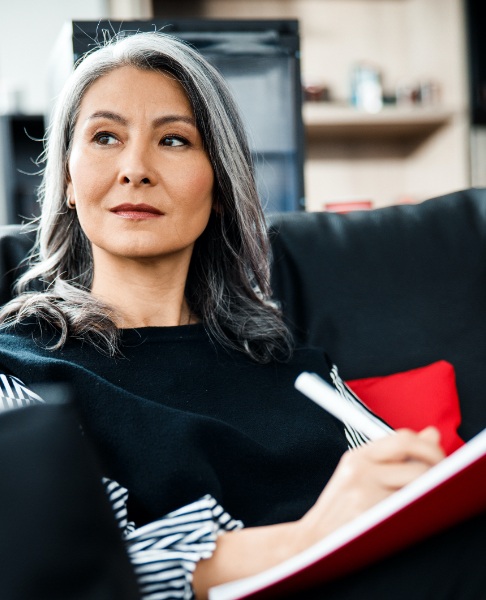 Virtually anyone with missing teeth can benefit from dental implants in Dallas. This is true whether you have lost just a single tooth or you require full mouth replacement. During your consultation, we will carefully evaluate your candidacy, and if you cannot receive implants right away, we may be able to arrange for treatments that will make you a candidate in the future. We firmly believe that dental implants are the best way to rebuild lost dentition, and we want as many people as possible to benefit from them.
Who Is a Good Candidate for Dental Implants?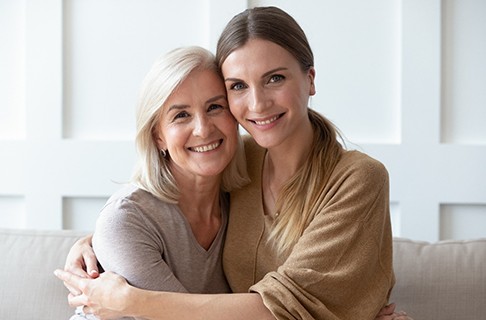 See below for image
An ideal candidate for dental implants will have:
At least one missing tooth, or at least one tooth that needs to be removed in the near future.
A healthy mouth, meaning there is no presence of gum disease or other issues that could complicate implant placement.
No medical conditions that might interfere with the body's ability to heal well after surgery.
A jaw that retains enough bone density to support dental implants.
Missing 1 Tooth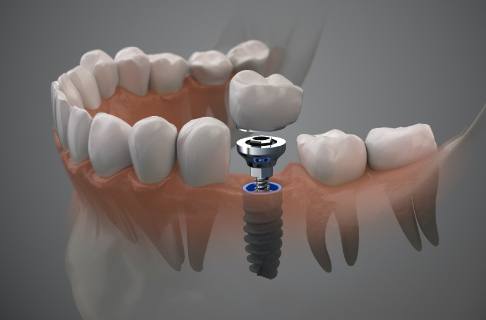 The traditional solution for single tooth loss is a dental bridge, which normally rests on two natural teeth that have been permanently altered. Because altering the abutment teeth can cause sensitivity and other issues, a traditional bridge is not an ideal form of tooth replacement.
Fortunately, replacing a single tooth with a dental implant is a fairly straightforward process. We can simply place a single dental implant in your jaw to support a dental crown. In addition to preserving your natural teeth, a dental implant is generally much sturdier and more natural-feeling than a bridge. It also stimulates the jaw and promotes your long-term bone health.
Missing Multiple Teeth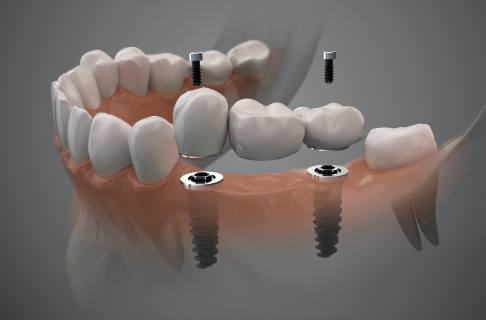 There are a couple different strategies for replacing multiple teeth with dental implants. For two teeth in a row, you might need a single implant, which will be topped with a crown and a pontic (an artificial tooth). For up to five teeth in a row, you might need two implants, one on each end of the empty space.
If the empty spaces are in different areas of the mouth, the implants can instead be used to anchor a partial denture in place. Depending on the specifics of the situation, a few single-implant crowns offer another possible solution.
Missing All Teeth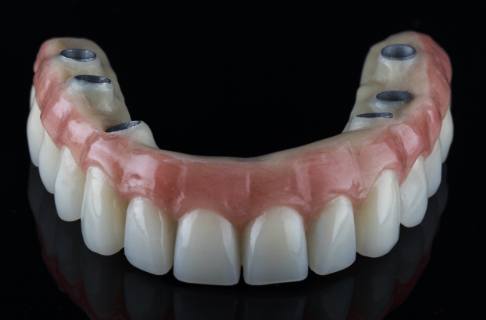 Full dentures normally require around 4 to 6 dental implants; we'll always aim for the most conservative number possible. Some implant dentures are permanently placed in the mouth and can only be removed by a dental professional, while others are easy for patients to remove on their own. We'll help you compare all of your denture options before you move forward with treatment. Many patients are even candidates for All-on-4, a streamlined dental implant process that uses only four implants and allows you to get a new set of teeth on the same day as your implant surgery.
Learn More About Implant Dentures
The 4 Step Dental Implant Process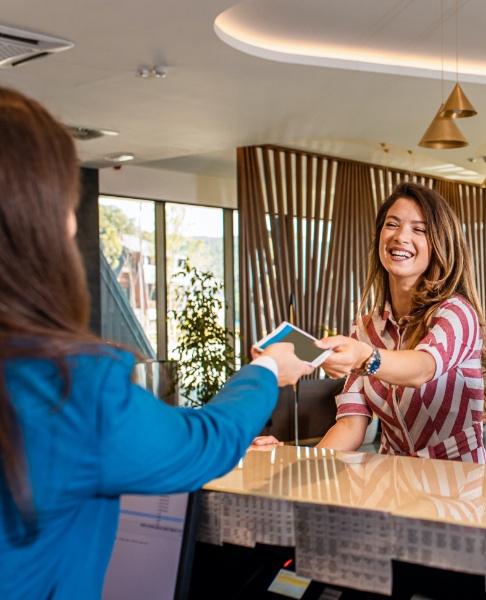 The process of getting dental implants can take several months and involves multiple treatment stages. However, any inconvenience you experience along the way will be well worth it! At Lincoln Park Periodontal and Dental Implant Group, our experts are well equipped to ensure that the surgical part of your procedure goes smoothly and sets you up for a lifetime of healthy, strong smiles.
Exactly how dental implants work in Dallas can vary from patient to patient, but here is a general overview of what you can expect as you journey from your initial consultation to your final restorations:
Initial Dental Implant Consultation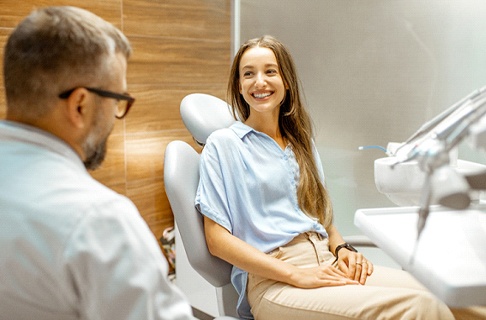 During your consultation, your implant dentist in Dallas will learn about your oral health and medical history. They will also answer your questions and discuss your goals for treatment. After some initial scans and a thorough examination, you will be informed if you require any preliminary procedures, such as a bone graft or gum disease therapy, before you can receive dental implants. You'll understand some details of the journey ahead of you and know what to expect as you move forward with treatment. Once your mouth is ready for your surgery, our team will be able to insert your strong new prosthetic tooth roots.
Dental Implant Surgery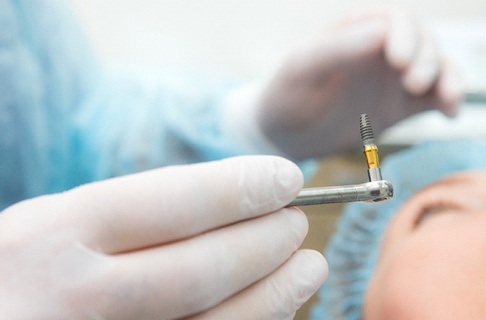 As a periodontic specialty practice, our team has completed extensive training in how to surgically place dental implants in Dallas. Our advanced skills and state-of-the-art technology minimize the risk of complications and set you up for a smooth recovery.
The surgery itself is pretty straightforward. We will numb your mouth and perhaps sedate you. Next, we'll make incisions in the gums before we carefully insert the implants at precise, pre-planned positions. Then, we will close the gums and send you home to begin the healing process. If you have any questions or concerns during your recovery, please call us right away.
Dental Implant Osseointegration & Abutment Placement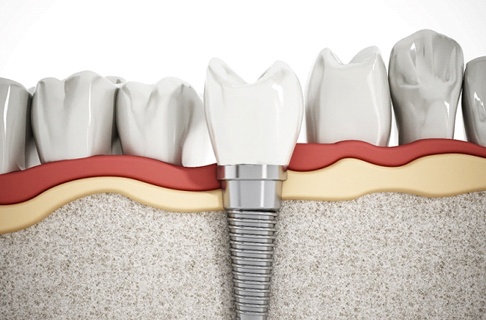 Once your implants are in your jawbone, they will begin to bond with the surrounding tissue through a process known as osseointegration. Osseointegration typically takes several months. It is a pivotal part of dental implant treatment because it is what ensures that the implants will provide a strong base for your new teeth.
Following osseointegration, you may undergo a second small surgery. Your implants will be exposed, and healing caps will be placed on them. Later, you will receive abutments, which are small connector pieces that will secure your new teeth in place. (Some patients receive abutments at the same time as their initial implant placement procedure, so not everyone has to have two surgeries.)
Delivery of Dental Implant Restorations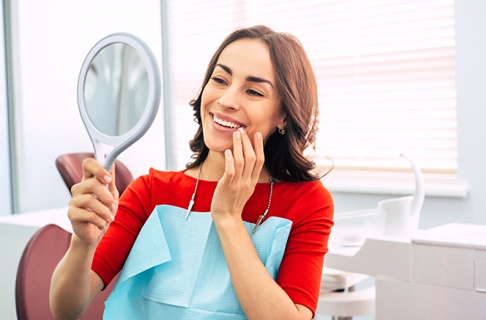 For most patients, a general dentist or prosthodontist will take care of this part of your treatment. They will take detailed impressions of your mouth and use those to design your new teeth. After a laboratory creates your crown, bridge, or denture, it will be secured in your mouth. Your dentist will make sure that its size, shape, color, and bite all meet high standards. After you receive a bit of coaching on how to care for and adjust to your new smile, you can go off and begin to fully enjoy the many benefits of dental implants.
Restoring Your Dental Implant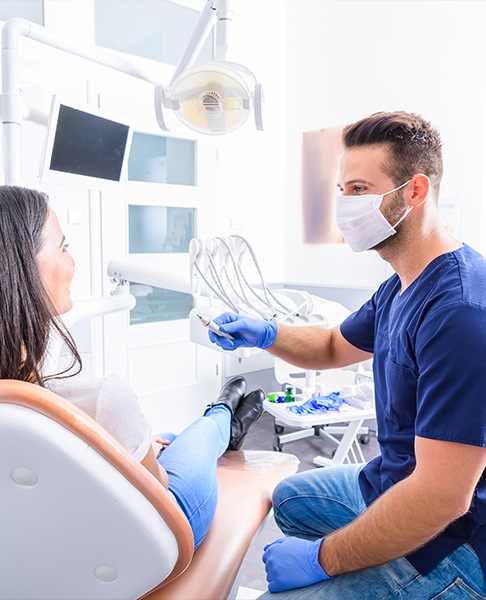 After we've placed a single dental implant, we'll give you a temporary restoration in order to protect it. Then, we'll work alongside a specialist who will handle the design and placement of the permanent restoration. However, we will be directly involved with the restoration process for patients who need overdentures or are undergoing an All-on-4 procedure. We'll go over the process with you before the surgery so that you fully understand who you'll be working with to complete your new and improved grin.
Understanding the Cost of Dental Implants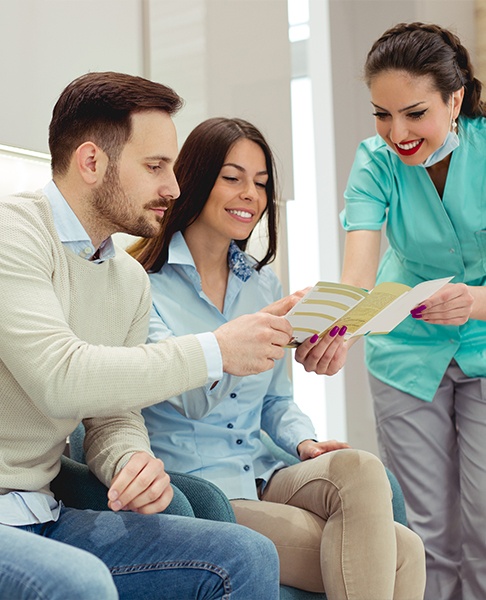 When our patients ask, "How much do dental implants cost?," the answer we give them will vary. That is simply because each patient has a unique smile with different needs. There are all sorts of factors to take into account, so the only way to find out how much your implants will cost for sure is by scheduling a consultation. Until you see one of our experienced periodontists, here are some things that you should keep in mind about the overall cost of dental implants.
Preliminary Treatments & Dental Implant Surgery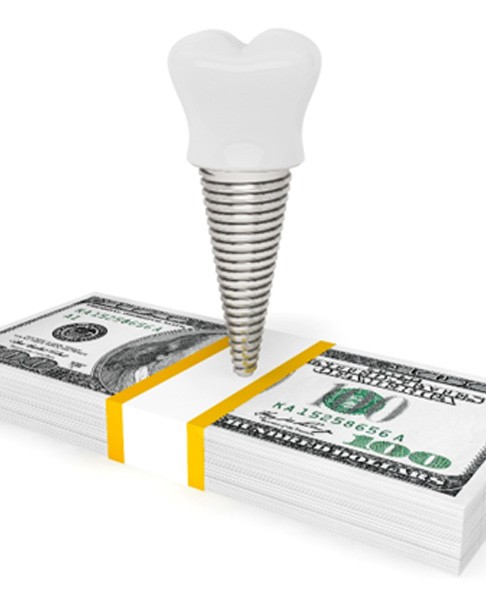 Any preliminary treatments that you require before getting implants, such as gum disease therapy, tooth extractions, or bone grafting, will contribute to the overall cost. For many patients, these treatments are necessary to ensure that the dental implants are a success. Sometimes, preliminary treatments are covered by dental insurance, so this is something that you should check on with your insurance provider. The implant placement surgery itself has its own cost, and this is determined by the location of your missing teeth and the type of sedation you require for the procedure to go as smoothly as possible.
The Parts of Your Dental Implant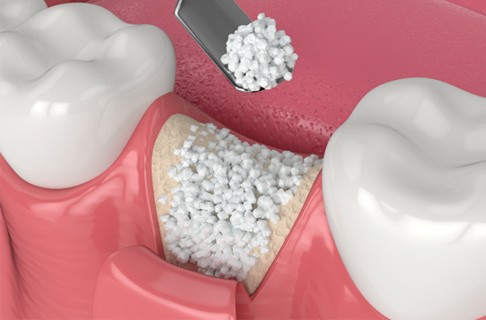 Here are the main factors that affect the cost of dental implants:
Number of Implants: Depending on the number of teeth you are having replaced and where they are in the mouth, you will need more or less implants. The more that you need, the higher the cost will be.
Type of Restoration: Crowns, bridges, and dentures all have different costs. Generally, smaller restorations are more affordable.
Materials Used: Implants can be made out of zirconia or titanium. These materials are at different price points.
Brand: Dental implants come from numerous different manufacturers. This can influence their cost.
How Dental Implants Can Save You Money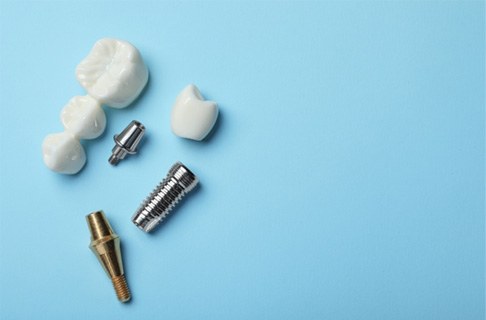 It is tempting for many patients to try to save money by opting for dentures or bridges, but dental implants have benefits that you can't get from any other tooth replacement options. They can even help you to save on overall costs in the long run. You won't need to pay for a replacement every five to seven years like you would for dentures, and there's no need to stock up on adhesives or soaking solutions. They can also help you to avoid oral health issues, like gum disease and tooth decay, that require costly treatments.
Does My Dental Insurance Cover Dental Implants?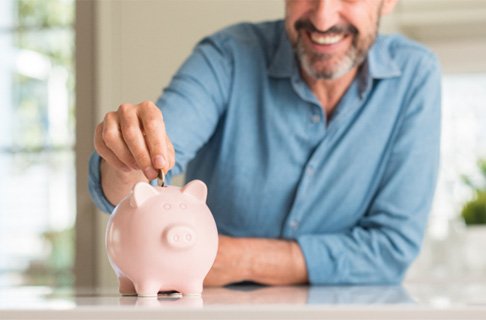 Many dental insurance plans don't pay for implants themselves, but there are a few exceptions. Parts of the final or preliminary treatments are often covered. Our periodontal office is happy to accept and file claims for a wide variety of insurance plans. If you have any questions, talk to one of our dedicated team members.
Making Dental Implants Affordable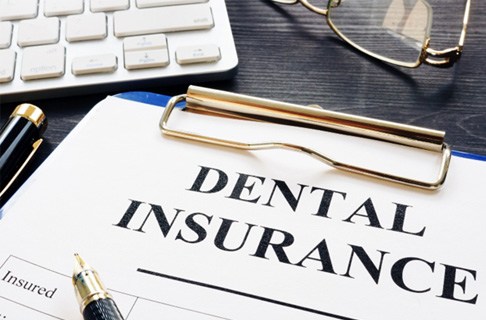 For patients who don't have dental insurance, or those who need some extra help with their cost, CareCredit is an option. This is a third-party financing company that offers flexible payment plans with little-to-no interest. Installments can be spaced out over 6, 12, 36, or more months! This way, you don't need to stress over your bill.
Dental Implant Post-Op Instructions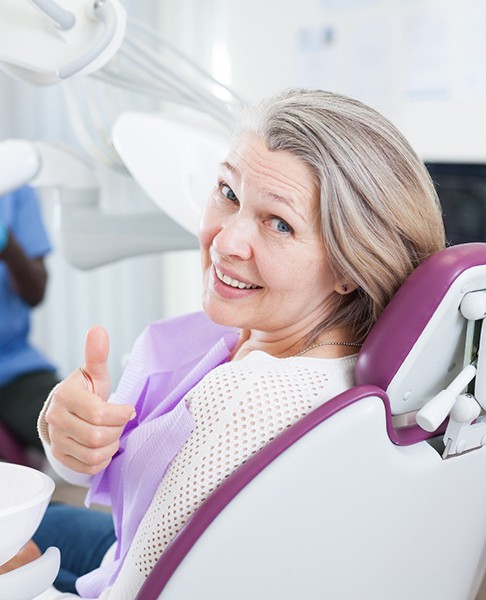 Following dental implant surgery, you'll need a bit of time to recover from the procedure. While it will take a few days for your gums to start healing, it will take you one to two weeks to fully heal. Keep in mind that osseointegration itself will take several months. At Lincoln Park Periodontal and Dental Implant Group, we want you to make a speedy and smooth sailing recovery, which is why we've compiled some post-op instructions below. If needed, we can provide additional instructions after your oral surgery.
What to Do Directly After Dental Implant Surgery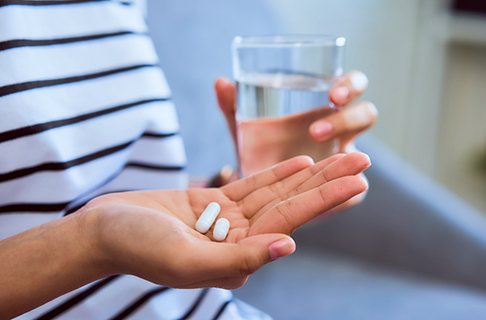 After your dental implant procedure, you should plan on resting for at least one full day. During this time, your biggest priority is leaving the forming blood clot untouched to ensure that the gums heal properly. That said, you should avoid:
Spitting (use tissues or swallow your saliva)
Using drinking straws
Smoking and using tobacco
Touching the surgical site with your tongue or fingers
Common Side-Effects When Recovering from Dental Implant Placement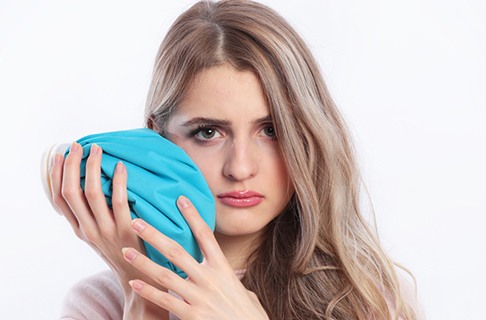 If you've never had oral surgery before, you may be unsure which side effects are normal and which ones you should be concerned about. In the first few days following your procedure, you can expect:
Intermittent Bleeding – While this can last multiple days, you can stop any bleeding that occurs by using gauze to apply light pressure to the wound.
Swelling – This may last over a week. You can minimize it by placing an ice pack or cold compress over the area in ten-minute intervals.
General Discomfort – You can alleviate your discomfort by taking prescribed or over-the-counter pain medication.
It's worth noting that these effects are all temporary and should go away over time. If that's ever not the case, don't hesitate to contact our office for assistance.
Your Diet After Dental Implant Surgery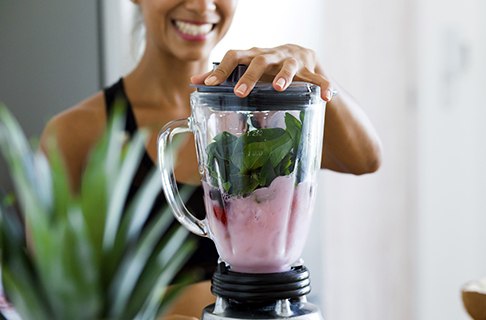 For the first few days following dental implant surgery in Dallas, you should stick to a soft-food diet. It's a good idea to stock up on foods like:
Mashed potatoes
Yogurt
Ice cream
Pudding
Pasta
Soup (make sure it's not too hot)
Although you can return to a normal diet as soon as you feel up for it, you should still be mindful of the foods you eat to avoid damaging your newly rebuilt smile.
Post-Op Health & Oral Hygiene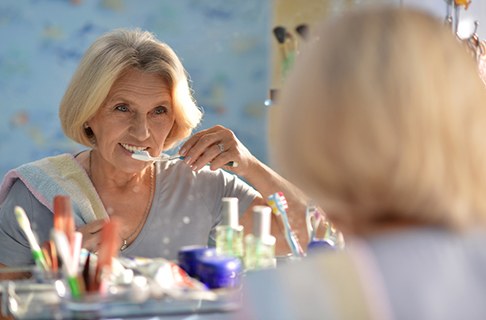 It's incredibly important that you keep your mouth clean after your procedure to ensure it heals properly. While you can brush as you normally would, you must be extremely careful near the surgical site. Make sure you rinse with warm salt water at least two to three times a day to keep oral bacteria under control. Avoid using an alcohol-based mouthwash as it can be painful when it touches the affected area, possibly even contributing to dry socket.
What to Do After Your New Teeth Are Attached
Once you're all healed up, you're ready for the final step of the process – the attachment of your final restoration! The good news is that there isn't much of a recovery process after getting your new crown, bridge, or denture. You may experience mild sensitivity in the gum tissue, but it's easily manageable with pain medication. After your appointment, you'll be ready to put your brand-new smile to use!
Maintaining & Caring For Your Dental Implants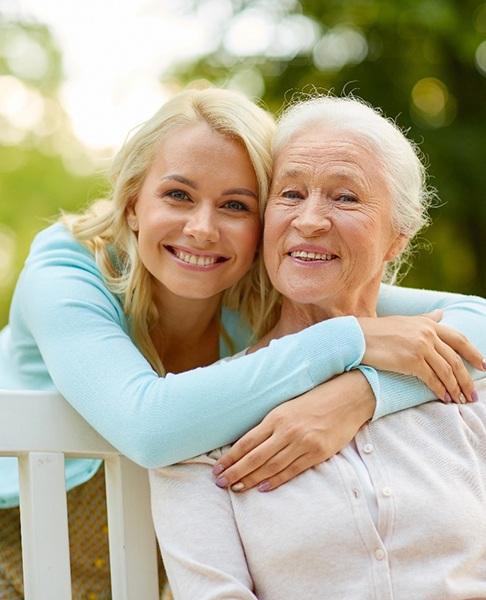 If you are preparing to receive dental implants in Dallas, you'll need to make sure you have all the detailed information to keep your new smile looking its best. At Lincoln Park Periodontal and Dental Implant Group, our team of experts will help you in your pursuit of a better quality of life. Not only will we work to create and restore your smile, but we'll also equip you with the tips and techniques you'll need to use to ensure the health and longevity of your new teeth. If you have questions about any of the information found below, you are always welcome to call our office to schedule an appointment.
Making Oral Hygiene a Priority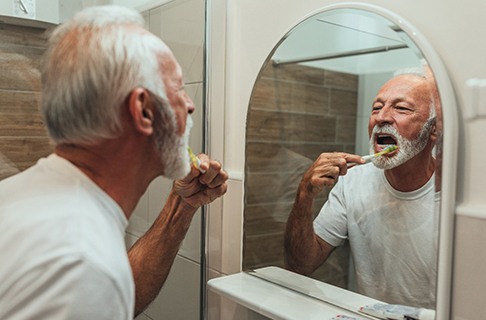 Are you committed to maintaining good oral hygiene once your dental implants are firmly in place? If so, there is a greater chance of enjoying your new smile for longer. Those who neglect their brushing, flossing, and rinsing can expect problems to develop over time. Should decay form on your natural teeth or gum disease develop, it can cause your dental implants in Dallas to fail. However, by remembering to brush twice a day for two full minutes as well as floss and rinse correctly, you can prepare for a lifetime of improved confidence and a more beautiful aesthetic.
Eating a Healthy Diet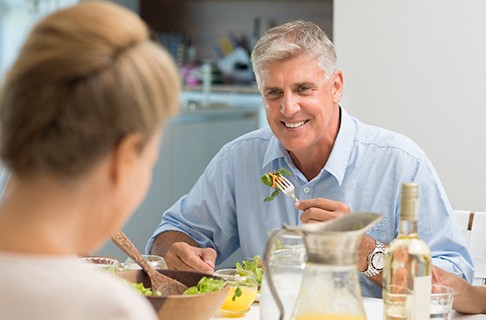 Leafy greens, lean proteins, fruits and vegetables, and those rich in Vitamin C are ideal for creating a healthy environment for your dental implants. Too much sugar and starch can wreak havoc on your oral health, resulting in cavities forming on your natural teeth as well as raising your risk for periodontal disease. By choosing to incorporate healthy alternatives into your daily diet, you will not only see a noticeable difference in your waistline, but your gum health, tooth enamel, and dental implants will strengthen and allow for a more stable and fully functional smile.
Breaking Bad Habits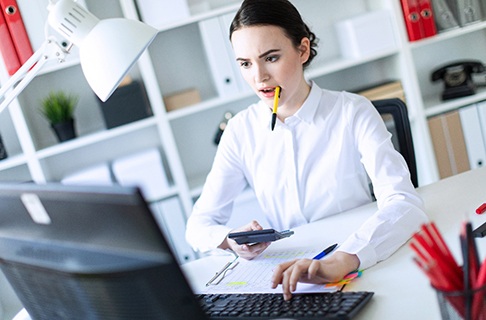 Bad habits are hard to break. Your implant dentist in Dallas understands this, but if you want to extend the lifespan of your prosthetics, it's best to stop them early on. Smoking can weaken the immune system and cause difficulties with osseointegration. Chewing on pens and pencils, eating ice, biting your nails, and using your teeth as tools can result in damage to your real and artificial teeth. Breaking bad habits before you ever meet with your dentist is a good way to put yourself on a healthier path and a more promising future with a complete and permanent smile.
Protecting our Dental Implants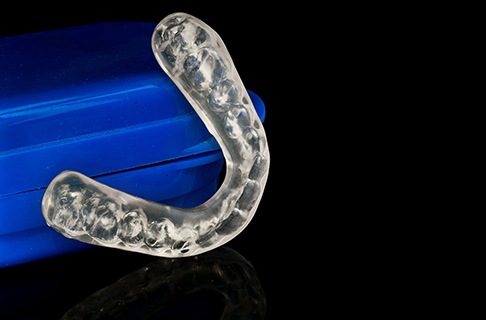 If you play sports or suffer from high levels of stress that cause you to grind or clench your teeth, you'll need to protect your dental implants with a customized mouthguard. These unique devices make it possible to enjoy your favorite outdoor activity and reduce the level of wear and tear to your tooth enamel. A hard-hitting tackle or continuous grinding of your teeth throughout the night can lead to costly procedures in an attempt to fix your natural smile and dental implants. If you want to make sure they are better protected, don't hesitate to inquire about a mouthguard.
Scheduling Regular Dental Checkups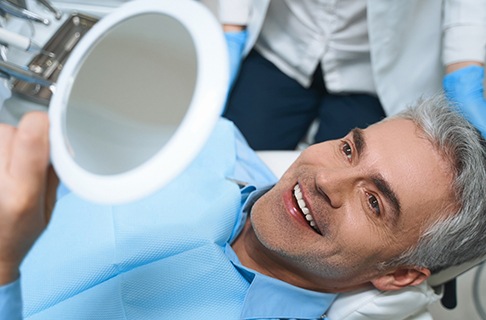 Regular dental checkups and cleanings are not just for individuals with natural, healthy teeth. No matter the number of dental implants you might have, it's imperative that your dentist continue to examine your smile in its entirety every six months. Your restorations and prosthetics need regular care to ensure they are free of any possible damage that could harm your oral. In keeping these appointments, you can feel more confident in the future of your smile.
Dental Implant Technology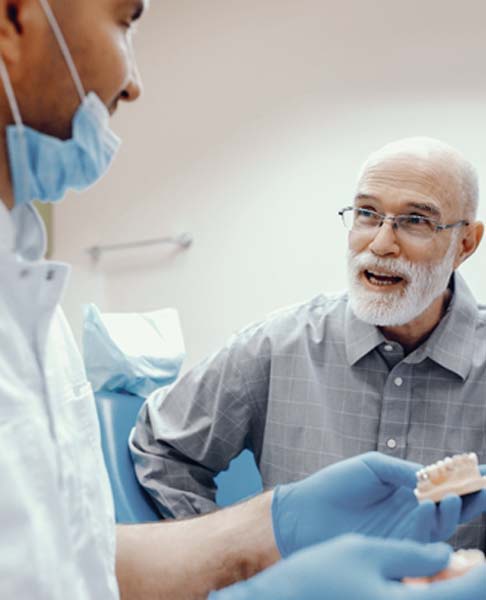 Dental implant technology in Dallas has come a long way in recent years. At Lincoln Park Periodontal and Dental Implant Group, our experts believe in providing top-of-the-line solutions to ensure treatment plans are more accurate and patients feel more comfortable throughout their procedures. With the help of the 3D Cone Beam Scanner and Guided Dental Implant Surgery, we can provide greater precision and accuracy while minimizing the potential for complications during the actual placement of the dental implants.
3D Cone Beam Imaging/3D CT Scanning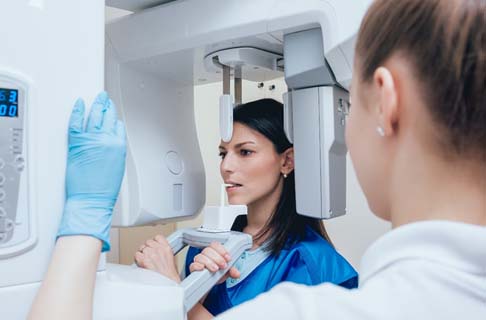 The 3D Cone Beam Imaging/3D CT Scanner allows our implant dentist in Dallas to see a more in-depth view of your oral and facial structures. Instead of relying solely on dental X-rays, this unique device takes a 360-degree scan to capture high-resolution images of your teeth, gums, nerves, jaw, and adjacent oral structures. In being able to see everything at once, we can better determine the density of your jawbone as well as the areas that house sensitive facial nerves. This information helps us to more precisely prepare for your dental implant procedure and offers a more accurate treatment plan that makes you more comfortable about your upcoming surgery.
Guided Dental Implant Surgery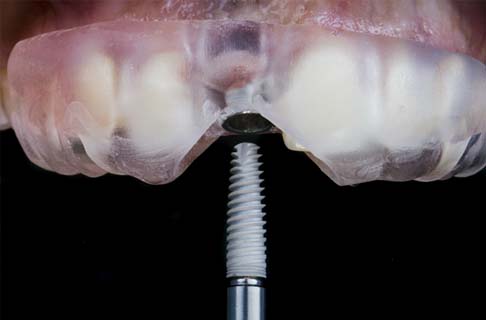 Because there is little room for error when placing these titanium posts, we must be extremely careful. Fortunately, with the help of guided dental implant surgery and the use of computers, we can create surgical guides that minimize any potential risks and instead, offer more predictable results that leave patients and our team with fewer surprises along the way. By placing the guides inside the mouth, we can insert the implant into the proper place according to the pre-designed plan. The decision for our office to use this type of technology can make placing dental implants in Dallas an easier process, and patients can feel more confident knowing their future smile is in the best possible hands.
Advanced Dental Implant Procedures
When you first visit your dentist for a dental implant consultation, you might find out that you can't get implants right away for various reasons, such as a lack of bone density in your jaw. These issues don't have to stop you from getting dental implants altogether. Thanks to the advanced procedures that our practice has to offer, many more patients can look forward to getting a new implant-supported smile! Here are a few of the advanced procedures we might recommend to help your implants last for life.
Bone Grafting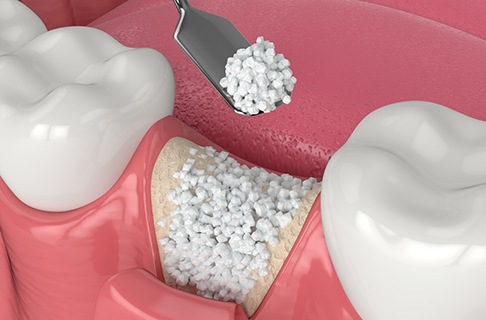 The teeth play an important role in maintaining the jawbone. Biting and chewing help stimulate the blood flow in the jaw, which is important for maintaining healthy bones. When your teeth are lost, this stimulation is lost, and as a result, the jawbone starts to deteriorate. Eventually, it may reach the point that the jaw is no longer able to support dental implants.
With bone grafts, we can reverse the deterioration that has occurred after tooth loss. The procedure involves opening the gums so that we can access the weakened parts of the jaw. Then bone grafting tissue taken from another part of your body is applied to the jaw. The tissue eventually joins with the rest of the bone after several months. Once healing is complete, your bone will be strong enough for implants to be successfully placed.
PRP/PRF Treatment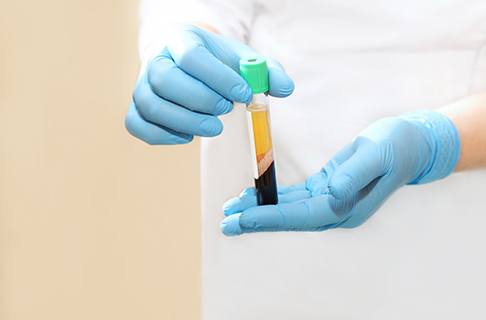 After surgical treatment for dental implants, we might use PRP or PRF to accelerate the healing process. PRP is short for "platelet-rich plasma" while PRF stands for "platelet-rich fibrin." To create them, a small sample of your blood is taken and placed in a centrifuge to separate the platelet-rich portions of the blood. Applying PRP or PRF to the surgical area has been shown to lead to shorter healing times. It can also decrease discomfort after your procedure.
PRP and PRF treatment may be used right after a bone grafting procedure so that you don't have to wait as long for your jaw to accept the new tissue. We may also use it after your implant surgery to aid with recovery and lower the risk of infection.
Ridge Expansion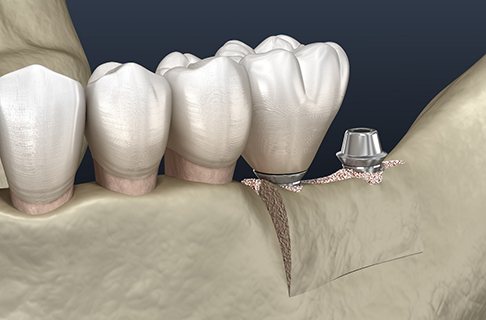 When examining your jaw, we may find that it's not wide enough for dental implants to be placed. In these cases, we need to perform what's known as a ridge expansion to create the necessary space so that implants can be inserted into your jaw successfully.
The procedure involves dividing the ridge bone, with the inner and outer segments of the bone being wedged apart. The grafting material is placed in the space between two sections. Once the grafting material has successfully joined with the bone, the result is an effectively wider jaw where dental implants can be placed more easily.
Dental Implant FAQs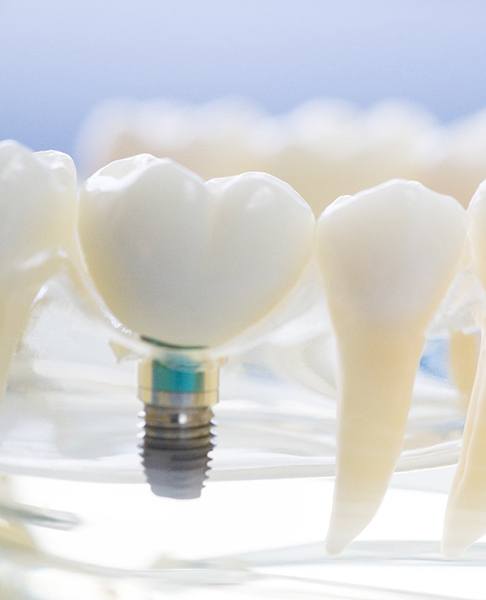 Are you interested in rebuilding your smile with dental implants? We understand that it's a big decision, and we want you to feel 100% comfortable in your choice. Below, you'll find some of the most common questions we get about dental implants so you can learn more about them. If you don't see the information you're looking for, don't hesitate to give us a call and we'll be more than happy to help!
Am I Too Old or Young to Get Dental Implants?
Dental implants are one of the most versatile tooth replacement options not only because they can replace any number of missing teeth, but practically anyone can get them! It's important that a patient's jawbone has finished developing, so we don't recommend dental implants for teens under the age of 16-18. However, there is no upper age limit! As long as you are healthy and have a strong jawbone, or are willing to undergo bone grafting, you're never too old to get a better smile with dental implants!
Will I Need to Take Work Off for Dental Implant Surgery?
Many patients are pleasantly surprised to find that dental implant surgery is not the ordeal they feared it to be. While you should rest on the day of your surgery, most patients can return to work within the following day or so. However, it's important to keep in mind that every case is different. For instance, you should refrain from physically demanding tasks for at least 3-4 days. After your surgery, we'll let you know how many days we recommend you take off based on your unique case.
Can I Get Dental Implants If I Smoke?
It is possible for smokers to get dental implants, but it isn't encouraged. Smoking dramatically slows down your body's healing process and leaves the mouth prone to infection, both of which can cause your dental implant to fail. In fact, dental implants are significantly more likely to fail in smokers. That's why we strongly recommend that you take this opportunity to quit! Your smile and your overall health will thank you in the long run.
What Do Dental Implants Feel Like?
There are no pain-sensing nerves in your jawbone where the dental implants are placed, so you shouldn't really "feel" your dental implants at all. You'll still be able to tell the temperature and texture of your foods, but this sensory information will come from the surrounding natural tissues. However, other than that, your dental implant should feel virtually indistinguishable from a natural tooth! In fact, dental implants are so comfortable that some patients forget they even have them!
Are Dental Implants an Eligible FSA or HSA Expense?
Since dental implants are largely categorized as a restorative treatment, they are generally considered eligible for FSA/HSA reimbursement. Our team has plenty of experience navigating these types of plans, and they'll be happy to review the details of your specific plan with you to make sure your new smile is as affordable as possible.
What Should I Do If I Can't Afford Dental Implants?
Traditional tooth replacements usually cost less than dental implants, and you might be tempted to choose them instead. However, dental implants are an investment worth making because of their long-term benefits. So, our team will do whatever we can to help you fit the cost of dental implants into your budget. This includes looking over your dental insurance plan; even if your policy doesn't cover the implants themselves, it may partially cover some portion of the treatment, such as your restoration. Our practice also works with CareCredit, so qualified patients can split up their costs into affordable, low-interest monthly payments. Reach out to our team today to find out how we can help you afford your brand-new smile!
How Long Do Dental Implants Last?
Dental implants are designed to last for a long time; they can last for 25+ years with proper care! To prolong the longevity of your new and improved smile, it's of the utmost importance that you implement a solid oral hygiene routine. This means brushing, flossing, and using a mouth rinse daily; it also means attending your biannual checkups and cleanings! It is also advised that you avoid unhealthy dental habits, like smoking and chewing on ice, which can damage the implant or the supporting structure.
Will People Be Able to Tell That I Have Dental Implants?
Your implants are designed to recreate your original teeth in every way—look, feel, and functionality. The crown, bridge, or denture that is secured on top of the posts will be crafted from impressions of your mouth that we take, ensuring it looks just like your natural teeth. Additionally, the implant posts are embedded in your jaw, so you can rest assured they won't shift around like traditional dentures often do. No one else should be able to tell that your implants aren't your natural teeth!
How Can I Tell If My Dental Implant Is Failing?
Although dental implant failure is rare (they have a success rate of over 95%), it can still happen. That's why it's important to keep an eye out for warning signs, like inflamed, swollen, or red gums. It's also possible that your implant can sustain physical exterior damage. The moment any unusual symptoms arise, get in touch with us so we can get your smile back on track!