Dental Implants – Dallas, TX
Laying the Roots of
a Great Smile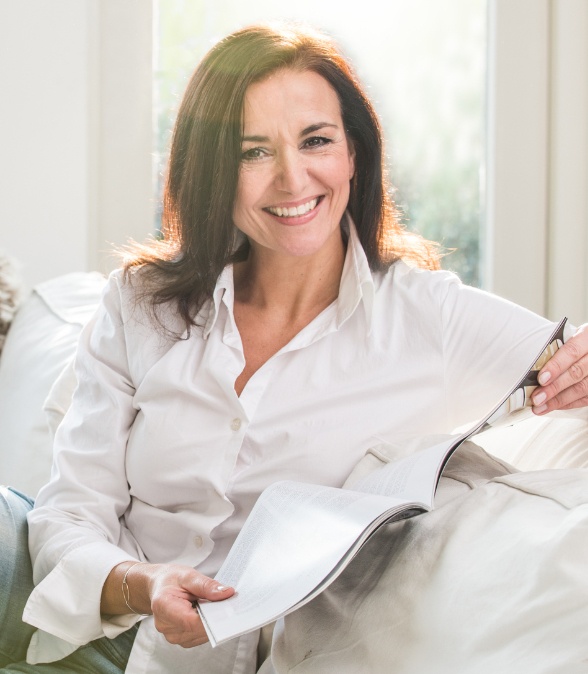 First used in 1965, dental implants have changed the way that dental professionals approach tooth loss. Now there's a way to replace the roots of missing teeth, giving the restorations they support additional stability and chewing power. And thanks to the technology and techniques that have been developed over the years, it's easier than ever to place them efficiently and successfully. Get in touch with Dr. Barnett and the rest of our team today to schedule a consultation to discuss tooth replacement with dental implants in Dallas, TX.
Why Choose Lincoln Park Periodontal and Dental Implant Group for Dental Implants?
Partnered with Dallas's Best Restoration Specialists
Dedicated to Current, Evidence-Based Treatments
Experienced Periodontists Who are Always Honest
What is a
Dental Implant?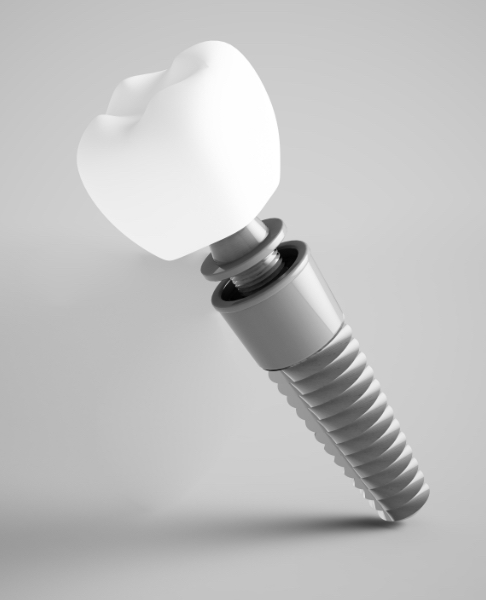 A dental implant is a small post usually made out of titanium. Looking at it by itself, you might be confused about how it's supposed to replace a tooth. That's because the implant is incomplete by itself; its purpose is to act as an artificial tooth root for a restoration such as a crown or a bridge. What makes implants truly unique compared to other tooth replacements is that they fuse with the jawbone and effectively become part of your body.
Benefits of
Dental Implants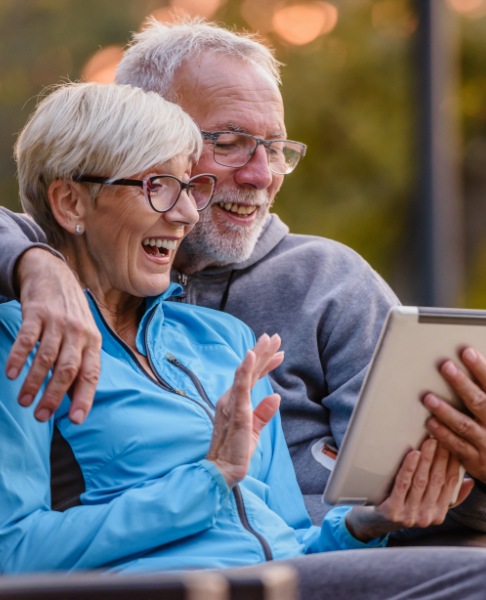 Why would your dentist recommend dental implants over other forms of tooth replacement? The answer is simple: there are many benefits that you can only enjoy with implant-retained new teeth. Here are just a few reasons why patients prefer dental implants whenever they're a viable option:
Implants fulfill all of the same functions as tooth roots. This naturally means that they help hold your new teeth in place; however, they also stimulate the underlying bone so that it doesn't break down over time.
Unlike other tooth replacements, implants nearly match the chewing power of real teeth and thus don't come with any significant diet restrictions.
Implants feel natural in your mouth, and once they're restored, they'll look just like your real teeth, to the point where no one will be able to tell that a tooth was ever missing.
The life expectancy of implants is around 30 years or more, which is much longer compared to other tooth replacements that need to be switched out after a decade or so.
Are Dental Implants Right for You?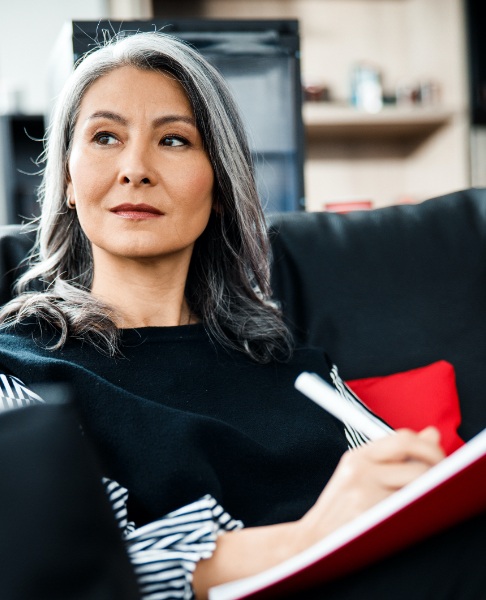 An ideal candidate for dental implants will have:
At least one missing tooth, or at least one tooth that needs to be removed in the near future.
A healthy mouth, meaning there is no presence of gum disease or other issues that could complicate implant placement.
A jaw that still retains enough bone density to support dental implants.
After an examination and any necessary preparations, we can move forward with the dental implant process. Depending on your needs, we can replace one tooth, multiple teeth, or even an entire arch.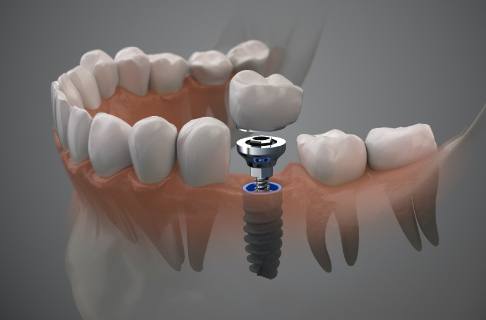 Missing Single Tooth
The traditional solution for single tooth loss is a dental bridge, which normally rests on two natural teeth that have been permanently altered. To avoid making changes to your remaining enamel, we can instead place a single dental implant in your jaw to support a dental crown.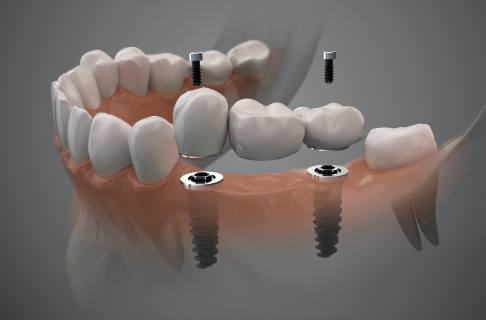 Missing Multiple Teeth
There are a couple of different strategies for replacing multiple teeth with dental implants. For several teeth in a row, a bridge that rests on a pair of implants can be used. If the empty spaces are in different areas of the mouth, the implants can instead be used to anchor partial dentures in place.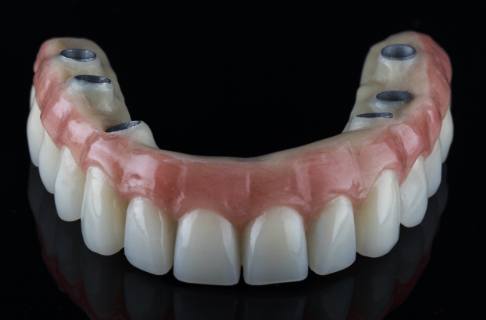 Missing All Teeth
Full dentures normally require around 4 to 6 dental implants; we'll always aim for the most conservative number possible. Since your dentures will be permanently attached to the implants, they can simply be brushed as if they were real teeth, and there's no need to take them out at night.
Learn More About Implant Dentures
How Dental Implants Work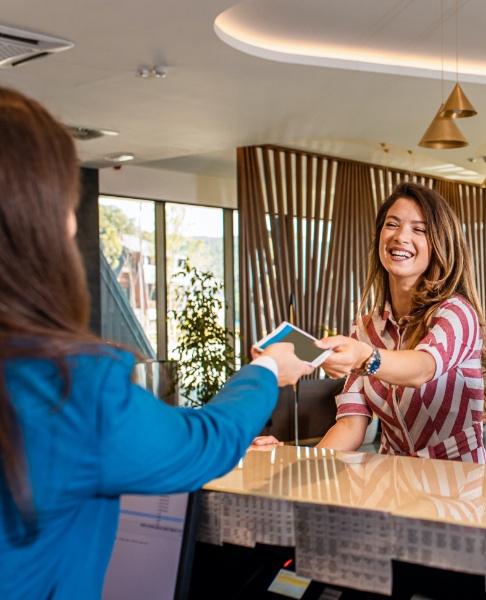 The dental implant process is divided into a few basic steps:
First, you'll schedule an initial consultation with us to determine whether or not getting implants is a viable option.
Bone grafts, periodontal treatment, and other preparatory procedures will be performed as needed.
Once your mouth is ready, the implants will be surgically placed in the jaw. It will take your mouth a few months to fully recover from this procedure.
The final step is restoration – in other words, designing and placing the crown, bridge, or dentures that you'll use to bite, chew, and smile.
Restoring Your Dental Implant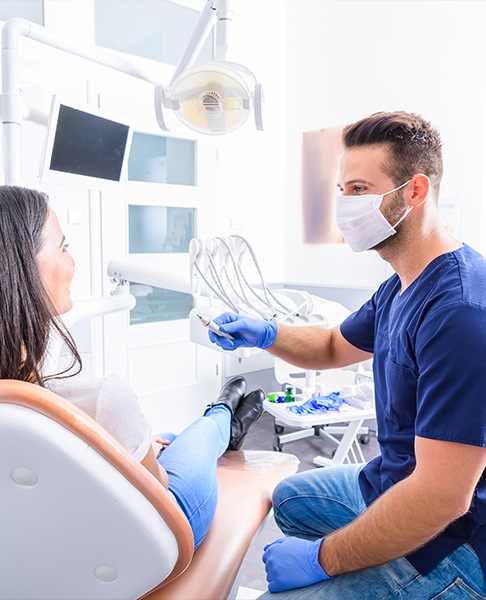 After we've placed a single dental implant, we'll give you a temporary restoration in order to protect it. Then, we'll work alongside a specialist who will handle the design and placement of the permanent restoration. However, we will be directly involved with the restoration process for patients who need overdentures or are undergoing an All-on-4 procedure. We'll go over the process with you before the surgery so that you fully understand who you'll be working with to complete your new and improved grin.
Understanding the Cost of Dental Implants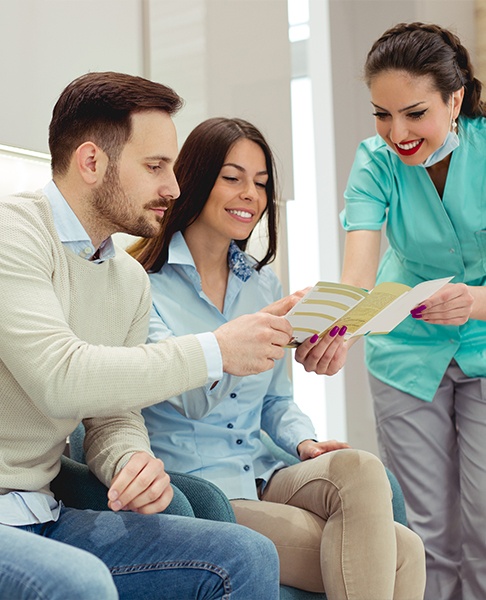 When our patients ask, "How much do dental implants cost?", the answer we give them will vary. That is simply because some patients will need multiple implants while others will just need one. Then, of course, there are procedural differences (such as whether or not bone grafts are needed) to take into account. If you have concerns about the overall cost of implants, remember that they're designed to last for decades, which means you won't have to pay for a replacement as often as you would with a traditional bridge or dentures.
Maintaining & Caring For Your Dental Implants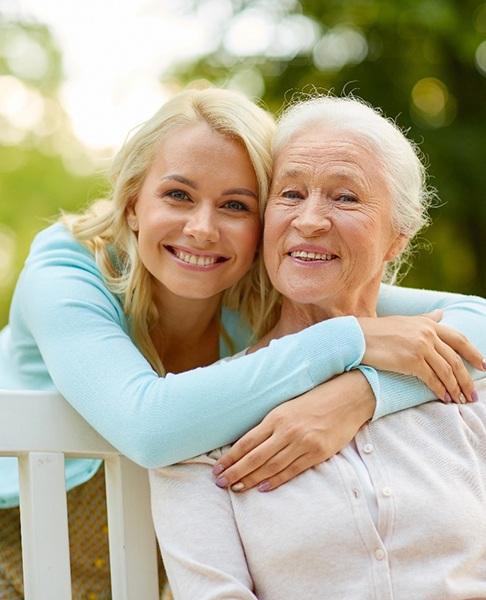 If you are preparing to receive dental implants in Dallas, you'll need to make sure you have all the detailed information to keep your new smile looking its best. At Lincoln Park Periodontal and Dental Implant Group, our team of experts will help you in your pursuit of a better quality of life. Not only will we work to create and restore your smile, but we'll also equip you with the tips and techniques you'll need to use to ensure the health and longevity of your new teeth. If you have questions about any of the information found below, you are always welcome to call our office to schedule an appointment.
Making Oral Hygiene a Priority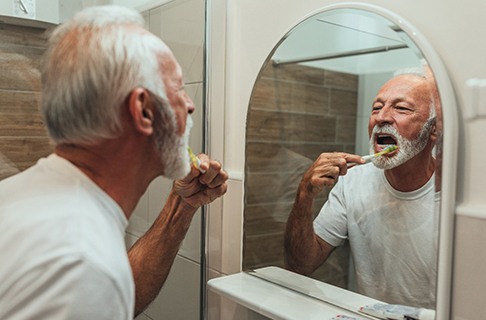 Are you committed to maintaining good oral hygiene once your dental implants are firmly in place? If so, there is a greater chance of enjoying your new smile for longer. Those who neglect their brushing, flossing, and rinsing can expect problems to develop over time. Should decay form on your natural teeth or gum disease develop, it can cause your dental implants in Dallas to fail. However, by remembering to brush twice a day for two full minutes as well as floss and rinse correctly, you can prepare for a lifetime of improved confidence and a more beautiful aesthetic.
Eating a Healthy Diet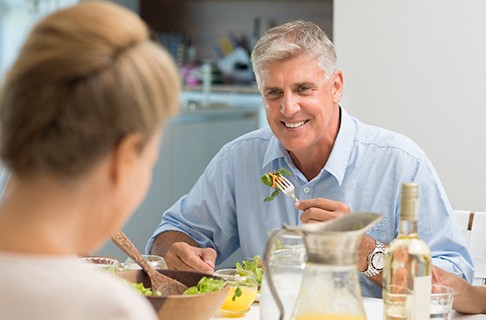 Leafy greens, lean proteins, fruits and vegetables, and those rich in Vitamin C are ideal for creating a healthy environment for your dental implants. Too much sugar and starch can wreak havoc on your oral health, resulting in cavities forming on your natural teeth as well as raising your risk for periodontal disease. By choosing to incorporate healthy alternatives into your daily diet, you will not only see a noticeable difference in your waistline, but your gum health, tooth enamel, and dental implants will strengthen and allow for a more stable and fully functional smile.
Breaking Bad Habits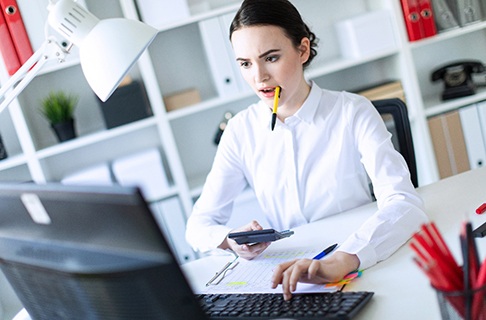 Bad habits are hard to break. Your implant dentist in Dallas understands this, but if you want to extend the lifespan of your prosthetics, it's best to stop them early on. Smoking can weaken the immune system and cause difficulties with osseointegration. Chewing on pens and pencils, eating ice, biting your nails, and using your teeth as tools can result in damage to your real and artificial teeth. Breaking bad habits before you ever meet with your dentist is a good way to put yourself on a healthier path and a more promising future with a complete and permanent smile.
Protecting our Dental Implants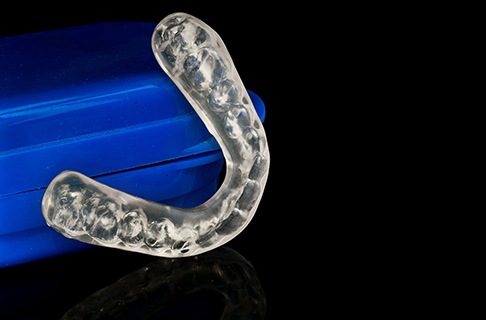 If you play sports or suffer from high levels of stress that cause you to grind or clench your teeth, you'll need to protect your dental implants with a customized mouthguard. These unique devices make it possible to enjoy your favorite outdoor activity and reduce the level of wear and tear to your tooth enamel. A hard-hitting tackle or continuous grinding of your teeth throughout the night can lead to costly procedures in an attempt to fix your natural smile and dental implants. If you want to make sure they are better protected, don't hesitate to inquire about a mouthguard.
Scheduling Regular Dental Checkups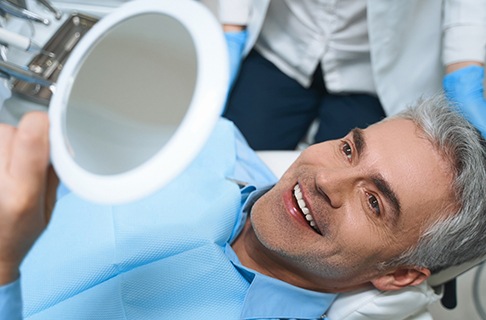 Regular dental checkups and cleanings are not just for individuals with natural, healthy teeth. No matter the number of dental implants you might have, it's imperative that your dentist continue to examine your smile in its entirety every six months. Your restorations and prosthetics need regular care to ensure they are free of any possible damage that could harm your oral. In keeping these appointments, you can feel more confident in the future of your smile.