Sedation Periodontics – Dallas, TX
Get the Treatment You Need Without Fear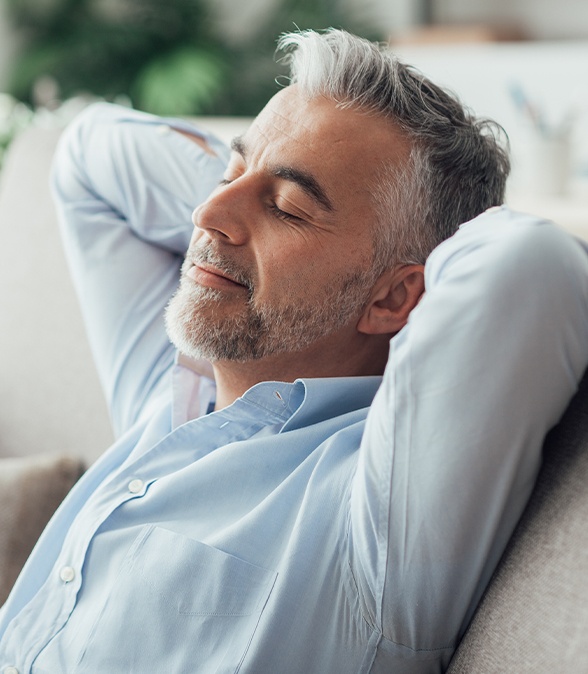 Despite being told of the risks, some patients actively avoid having their gum disease treated because they're nervous or afraid of seeking any kind of dental care – periodontal or otherwise. Dr. Barnett and the rest of our team are no strangers to dental anxieties. Simply tell us about your concerns, and we can arrange for sedation periodontics in Dallas, TX to be used during your treatment, allowing you to stay calm while also making sure that the process is as painless as possible.
Why Choose Lincoln Park Periodontal and Dental Implant Group for Sedation Periodontics?
Three Kinds of Sedation Available
A Knowledgeable,
Caring Team
Current, Minimally Invasive Techniques
IV Sedation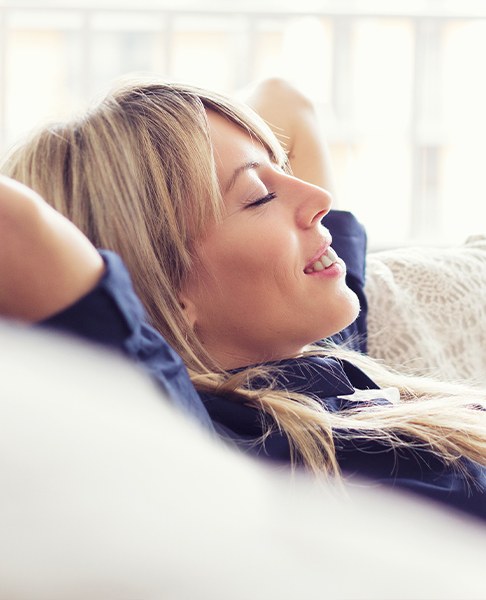 IV sedation is commonly used to help individuals experiencing extreme dental anxiety or those who require extensive oral healthcare treatments. Designed to put you into a completely relaxed state, you may feel as if you're asleep, but you won't be. Instead, you'll remain at ease while our team works to improve your smile and put your oral health back on track.
What is IV Sedation?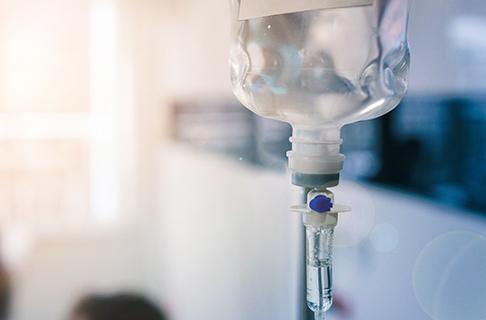 IV sedation is sometimes also known as "sleep dentistry." Despite that name, it doesn't put you to sleep; you'll merely be in a relaxed state where you can still respond to questions. The anti-anxiety drug is injected straight into your arm, allowing it to quickly take effect. The level of sedation can be adjusted as needed throughout the process. Your recollections of the treatment afterward may be vague (if you have any at all).
Who is a Good Candidate for IV Sedation?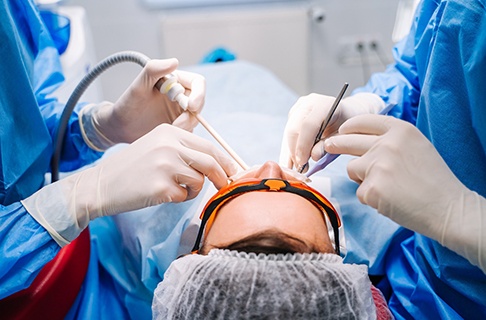 When meeting with your sedation dentist in Dallas, you'll discover several factors that must be discussed to determine if you are a candidate for IV sedation. You'll need to disclose any medications you're currently taking as well as discuss any health issues or conditions you may suffer from, as this can have an impact on the effectiveness and safety of receiving IV sedation.
If you experience any of the following issues, there is a good chance you'll be a candidate:
A sensitive or strong gag reflex
Extreme dental anxiety that inhibits your ability to seek dental care
Severe dental problems that require multiple procedures
The inability to become numb with other sedation methods
The Benefits of IV Sedation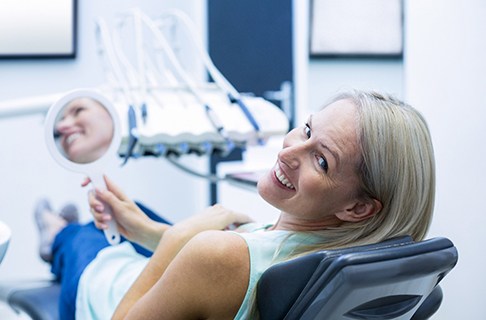 When choosing to receive IV sedation, you'll find there are multiple benefits you can expect to receive, such as:
Close monitoring by dental staff to ensure your comfort and safety
Effects that occur quickly, allowing you to feel more at ease in less time
The opportunity to see your dentist regularly without the feeling of anxiety
Little to no recollection of your dental visit
Patients who opt for this type of sedation recognize how helpful it is. Not only does it eliminate the fear and anxiety that many face when visiting the dentist's office, but more importantly, it allows individuals to take back their oral health so that a brighter, healthier future awaits.
Oral Conscious Sedation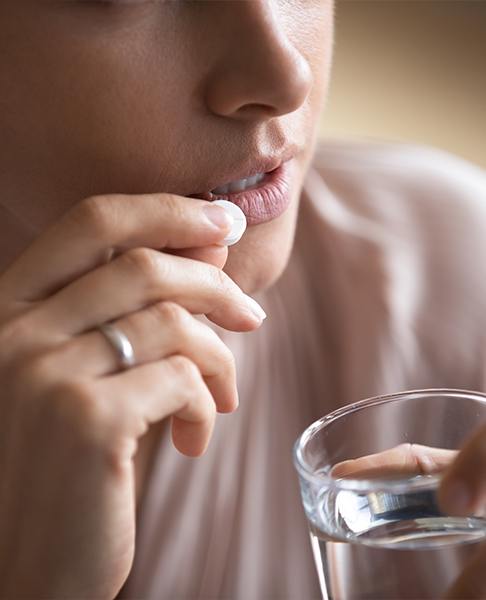 When you elect to undergo oral conscious sedation, you'll be given the medication ahead of time along with some instructions. You'll typically ingest the medicine before you even get to our periodontal office, meaning you should arrange to have someone drive you to your appointment (as well as take you home). Like IV sedation, oral conscious sedation tends to put patients in such a relaxed state that they barely remember anything about their visit afterward.
Nitrous Oxide Sedation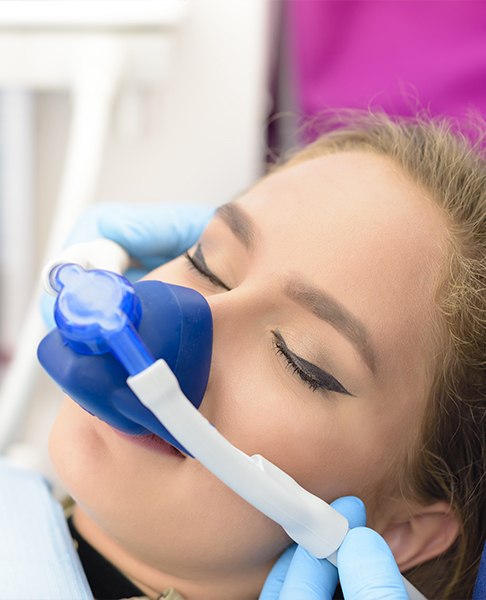 Nitrous oxide is generally preferable for shorter procedures or patients who only have mild dental anxieties. You'll simply breathe in the sedative through a nasal mask while we work on your smile. There is little preparation required before nitrous oxide is used, and since it wears off so quickly, you won't have to spend the rest of the day recovering from the sedative; you'll likely be able to drive yourself home or return to work.
Sedation Dentistry FAQs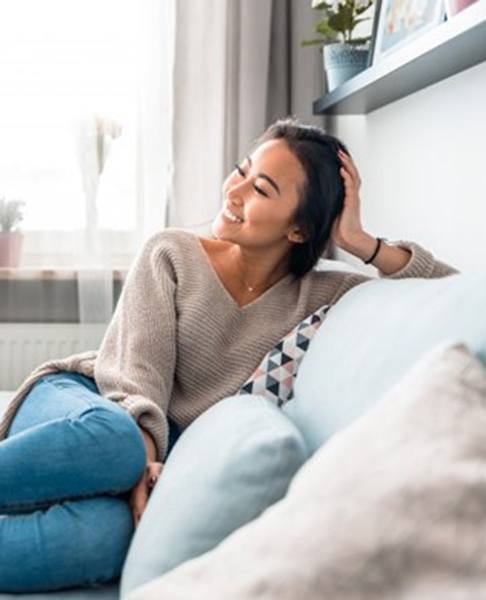 We see countless adults each day who are anxious or fearful about visiting their dentist due to bad past experiences, overstimulation, or a variety of other reasons. Our goal is to provide them with a caring and attentive environment that they can feel safe in, and with the addition of sedation dentistry in Dallas, we can also help make them feel more relaxed and at-ease. Below, we've answered some of the most common questions that we receive from our patients for your convenience. If you don't see the answers you're looking for, please don't hesitate to reach out to us directly.
Is sedation dentistry safe?
For many patients, dental sedation is completely safe. Those who may not be considered good candidates include patients who have allergies or resistance to the drugs used or those who are pregnant or have certain medical conditions. However, our team will thoroughly examine your medical history beforehand to make sure that sedation is safe for you. Also, throughout the time that you'll be sedated, we'll have one of our team members closely monitoring your vitals.
Will I remember anything if I receive dental sedation?
Even though IV, oral conscious, and nitrous oxide sedation are all conscious forms of sedation, which means that you'll technically remain awake and responsive throughout your treatments, many patients don't remember much afterward. This can be a great benefit for those who have fear and anxiety that prevents them from receiving the timely dentistry that they require to maintain a healthy smile. If you do fall asleep during your procedure, our team will gently wake you up to make sure that you're able to respond to any questions or requests that we have.
How much does sedation dentistry cost?
The cost of sedation dentistry depends on a couple of factors, including the type of sedation you receive and the length of your treatment. Typically, nitrous oxide and oral conscious sedation are less expensive than IV sedation because IV sedation is administered by a specially trained professional. Before your procedure, we'll discuss pricing with you so you know exactly what to expect.
Will I feel any pain with dental sedation?
It's important to know that sedation dentistry does not take pain away or numb you—it just helps you feel more at-ease and relaxed. To minimize discomfort, we may use general anesthesia, which is an injection that will numb the area that we're treating so you can't feel anything. Sedation and general anesthesia can be used alongside each other to make sure you remain comfortable throughout your procedure.
Will dental sedation make me sick?
Different patients can have different reactions to sedation dentistry, so the following information can vary based on your unique body's interaction with the medication. It's relatively rare that patients experience nausea with nitrous oxide, but this side-effect is more common among patients who receive oral conscious or IV sedation due to their more potent effects.