February 3, 2022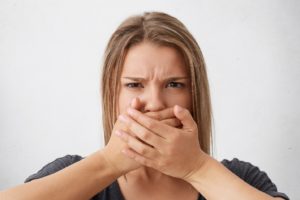 Do your gums seem longer than they used to, causing your teeth to look short and stubby? The problem may have even reached the point where you feel embarrassed to smile. While this issue might seem like nothing more than a strange aesthetic occurrence, it can actually point to a significant oral health problem. Let's talk more about what gum overgrowth can mean and why you should speak to a periodontist about it.
What Does Gum Overgrowth Mean?
There are a few different possible answers to the question, "Why are my gums growing over my teeth?" One possible explanation is gum disease. Although gum disease usually causes the gums to recede, in some people, it can have the opposite effect. As plaque and bacteria irritate the gum tissue, it starts to enlarge and cover more and more of the tooth enamel. Left untreated, this type of gum overgrowth may eventually turn into gum recession and lead to a range of serious symptoms, including loose teeth, significant pain, and more. Untreated gum disease can even increase the risk of several serious systemic health conditions, including heart attack and stroke.
Other potential reasons for gum overgrowth include:
Gingival fibromatosis. This rare genetic condition causes the gums to grow excessively; they may even end up covering the teeth altogether.
Certain medications. Certain calcium channel blockers and immunosuppressants may have gum overgrowth as a side effect.
Hormonal changes. Pregnancy may lead to gum overgrowth, as can other types of hormonal upheavals.
Pericoronitis. This type of inflammation and swelling usually occurs around the wisdom teeth.
Gingival hyperplasia. Gum overgrowth related to gingival hyperplasia results directly from inflammation.
What You Can Do
If you are concerned about excessive gum tissue, it would be wise to visit a periodontist (a dentist who has completed years of extra training in how to treat the gums). After they evaluate you, they can recommend your next steps. For example, if you have gum disease, a form of periodontal therapy may be able to kill harmful bacteria, remove excess gum tissue, and give your gums a chance to heal. You might also require antibiotics. Additionally, many periodontists are qualified to perform wisdom tooth extractions, so they can assist you if pericoronitis is to blame for your swollen gums.
If your gum overgrowth is purely aesthetic, you may opt to undergo a procedure known as gum recontouring, which involves the use of specialized tools to reshape the gumline. It reveals more of the underlying tooth structure, resulting in a more proportionate smile.
Are your gums getting out of control? Rather than ignore the problem, seek treatment as soon as you can. Your diligence may preserve your oral health and prevent future complications.
Meet the Practice
Drs. Andrew Barnett and Marshal Goldberg are the periodontists at Lincoln Park Periodontal and Dental Implant Group in Dallas. They provide a range of services, including periodontal therapy, gum recontouring, wisdom tooth removal, and more. To learn more about them and how they may be able to help you address overgrown gums, contact our office at 214-691-2614.
Comments Off

on Gum Overgrowth: What It Might Mean and How You Can Stop It
No Comments
No comments yet.
RSS feed for comments on this post.
Sorry, the comment form is closed at this time.