March 12, 2022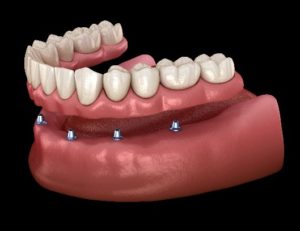 Dental implants can give you the next best thing to your natural smile when used to support a denture. Traditionally, it requires a multi-step process that can take several months to complete. You don't have to live without any teeth while your mouth heals when choosing All-Of-4. Fewer posts are needed to stabilize your denture, allowing you to walk out of your placement surgery with a complete smile. Although they'll look and feel like your natural teeth, you won't be eating steak for a while. Here's what you can expect when recovering from All-On-4 dental implants.
Your Jawbone Must Fuse to the Posts
A dental implant is unique because it replicates both the root and crown. Although a post isn't used for each tooth with All-On-4, you'll enjoy the same benefits. The implant posts stimulate your jaw to promote bone growth. Over time, your jaw will fuse to the posts through a process called osseointegration, which can take several months to occur. Various factors can affect the healing process, so you'll be given strict instructions to follow during your All-On-4 recovery.
You Will Need Time to Rest
You won't have to take several weeks off from work or spend the entire time lying in bed while waiting for your mouth to heal. You'll need to skip work for a day or two to recover from the procedure. You can expect some soreness, which can be managed using a prescribed OTC pain reliever. You can numb the area temporarily by applying a cold compress to the outside of your mouth. It will also reduce swelling and bruising. After 3-4 days, you should notice your discomfort improving. Most patients can resume normal activities within a week with some restrictions on exercising.
You Will Have Diet Restrictions
You don't want to put pressure on the posts because it can delay osseointegration or cause it to fail. Your dentist will advise you to follow a liquid diet for a few days, but don't use a straw when drinking. Suction can dislodge the blood clots forming at the surgical sites, leading to unnecessary complications. For the next several weeks, you'll have to eat softer foods, like yogurt or mashed potatoes. While you might miss some of your favorite meals and treats, you'll regain up to 70% of your biting force after your mouth has healed. It's a small sacrifice to never experience slipping or irritation ever again.
Safeguard Your Investment
Dental implants involve a lot of time and money. You can protect your investment from failure by complying with your aftercare instructions, like not smoking. You can benefit from a complete, beautiful smile that can thrive for decades with a few precautions.
About Dr. Marshal Goldberg
Dr. Goldberg earned his dental degree at the Baylor College of Dentistry before continuing his education in general dentistry, specializing in periodontics and dental implants. He has the experience and qualifications you can trust to handle your dental implant procedure. Contact our office today to schedule your consultation for All-On-4.
Comments Off

on Recovering from All-On-4 Dental Implants
No Comments
No comments yet.
RSS feed for comments on this post.
Sorry, the comment form is closed at this time.