August 7, 2021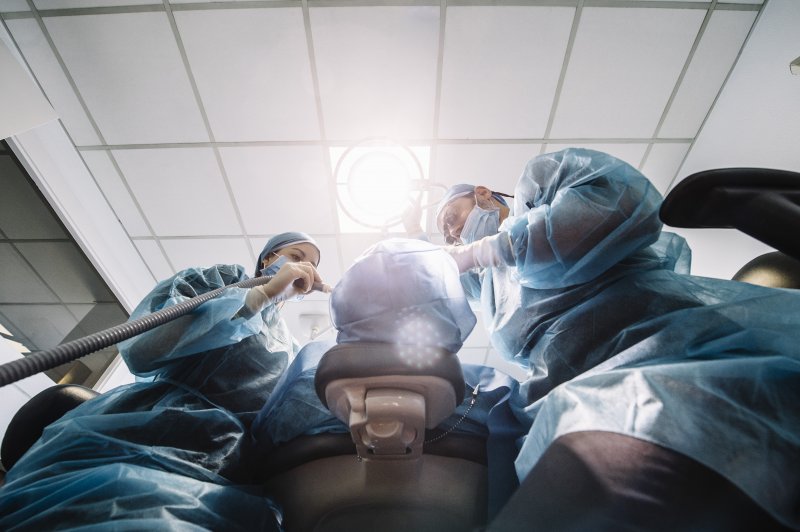 If you are preparing to have dental implants in Dallas replace your missing teeth, one of the most pivotal questions you may be asking is, "How long will I need to take off work?" Before you begin to worry about the amount of time you think you might need to miss, you should understand there are various factors that can determine the number of days you'll need to stay home. Read on to learn more about the recovery phase of dental implant placement and when it's safe to return to work.
Which Factors Affect Recovery Time at Home?
No two patients receiving dental implants are the same, so you cannot expect your recovery phase to be the same as someone else. When meeting with your doctor to discuss what you can expect after receiving your permanent prosthetics, there will be various factors that dictate how long you will need to take off work and recover at home. Some of these include:
The status of your overall health – Do you have an autoimmune disorder? Do you struggle with substance abuse? Do you have a condition or disease that weakens the immune system? Any of these potential health problems can slow the healing process, requiring more time to be spent recovering at home.
The number of implants you receive – If you are only having one tooth replaced, there is a good chance you'll be back at work in a short period. However, if you need between four and eight to replace a full arch, you can expect your at-home recovery to take longer.
If you require preliminary treatments – Bone grafting and sinus lifts are necessary for those with deteriorating jawbones. If you require one of these procedures before receiving your dental implants, you can expect to spend additional time at home allowing your mouth to heal before undergoing dental implant surgery.
Your ability to follow instructions – Are you willing to listen to your dentist's instructions? If so, you can expect to heal properly with little chance of complication; however, if you forgo the recommendations provided, you may face serious problems that cause you to miss more days at work.
Why Complete Healing is Important
Dental implants are a big investment, so if you want to avoid spending more time and money on achieving a fully restored smile, you won't rush the healing process. Yes, spending time away from work can be problematic for some people; however, if you push yourself too hard, too soon, you'll be dealing with what is known as dental implant failure. This will only cause you to spend even more time away from your job because you'll need to address these new problems.
Allowing your mouth to fully heal from oral surgery is essential if you want your dental implants to last a long time. Although it may be inconvenient to miss up to four days of work, you can talk to your periodontist in Dallas about scheduling your procedure on a Thursday or Friday to minimize the amount of time you need to be away from the office.
About the Authors
Dr. Andrew Barnett and Dr. Marshal Goldberg are two trusted periodontal specialists in Dallas who are committed to rebuilding and restoring smiles. With the help of dental implants, they can replace missing teeth to allow patients to embrace a better quality of life. From improved functionality and oral health to longevity and a boost in confidence, anyone experiencing tooth loss can expect outstanding and exceptional results. Dr. Barnett and Dr. Goldberg tailor all treatment plans to each individual, making sure every experience is a positive one. If you are looking to replace your missing teeth, visit our website or call (214) 890-7777.
Comments Off

on How Long Before I Can Return to Work After Receiving Dental Implants?
No Comments
No comments yet.
RSS feed for comments on this post.
Sorry, the comment form is closed at this time.