July 7, 2021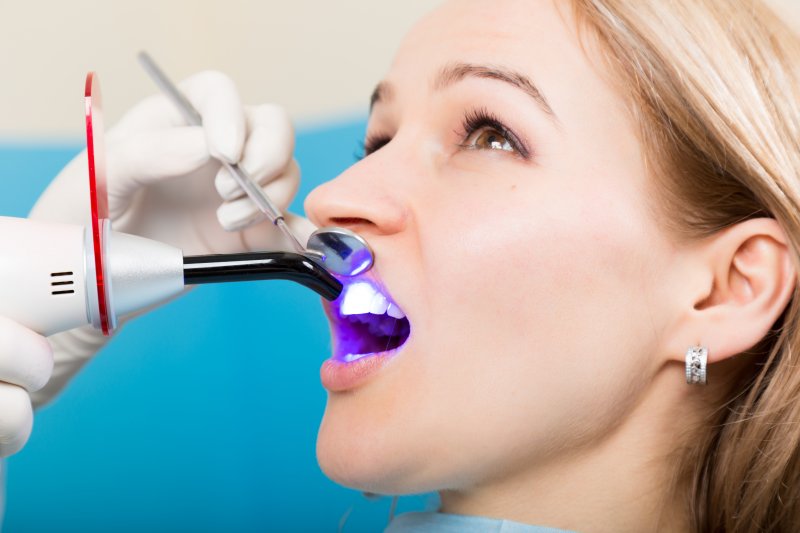 Minor tooth imperfections can be enough to keep you from enjoying the finer things in life. When you feel self-conscious about the small chips, cracks, gaps, and stains on your teeth, you may choose to avoid social situations and opportunities for advancements as a professional. Fortunately, with cosmetic dental treatments in Dallas, you can take back your smile once and for all. If you want a solution that is non-invasive and more affordable, here are 4 of the most common problems cosmetic bonding can fix.
Eliminating Gaps
If you have a minor gap between your teeth, cosmetic bonding is a great way to say goodbye to this extra space. Because your cosmetic dentist in Dallas can color-match the composite resin used, it will blend in with your natural tooth shade and make it appear as if you have an even and gap-free smile. Of course, if the gap is too large, the only possible solution may be orthodontics to help you achieve the look you desire.
Fixing Chips and Small Fractures
No matter how it happens, a small fracture or chip may leave you with a tooth that leaves much to be desired. Although it may not be too noticeable to others, you probably see it every time you look in the mirror. With cosmetic bonding, your dentist can apply the composite resin onto the enamel and shape it to produce a tooth that looks complete and damage-free. This is one of the great benefits of composite resin is that it can be sculpted to match the shape of your tooth.
Addressing "Short Teeth"
Alongside its ability to cover chips and create a normal shape, composite resin is also capable of making teeth appear longer. Far too often, excess gum tissue can cover a large amount of a person's natural tooth structure. By choosing cosmetic bonding, it is possible to have your "short" or "stubby" teeth look a bit longer, giving you a more confident and beautiful smile without having to resort to more invasive procedures.
Repairing Decayed Smiles
Do you have one or more teeth that are decayed or damaged? Whether caused by poor oral hygiene or a sudden fall while out riding your bike, composite resin is an effective way to repair the problem area while leaving you with a smile that looks beautiful. Instead of relying on traditional amalgam to fill a cavity or cover a broken tooth (i.e., dental crown), your dentist can use this malleable substance to restore your smile without shining a spotlight on your dental work.
When it comes to cosmetic bonding, many patients find it to be a safe, reliable, and affordable method of treatment. While veneers, gum recontouring, and even dental crowns are possible, minor flaws and imperfections don't necessarily require invasive procedures to fix. If you want to enhance your appearance, boost your confidence, and keep more money in your pocket, talk to your dentist about cosmetic bonding today.
About the Authors
Dr. Andrew Barnett and Dr. Marshal Goldberg are two trusted periodontal specialists in Dallas who are committed to rebuilding and restoring smiles. Offering comprehensive care to individuals in need of better oral healthcare, they provide exceptional care and service and will even provide referrals for treatments not performed in-house. If you want to make a change to your smile, visit our website or call (214) 890-7777.
Comments Off

on 4 Common Problems Cosmetic Bonding Can Fix
No Comments
No comments yet.
RSS feed for comments on this post.
Sorry, the comment form is closed at this time.