June 17, 2021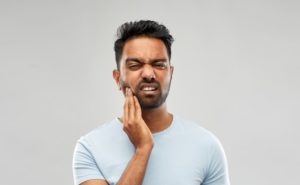 If you've ever experienced pain in your teeth while sipping hot coffee or eating some cold ice cream, you're probably familiar with tooth sensitivity. However, you probably weren't expecting to feel tooth sensitivity in your dental implant! The truth is, dental implant sensitivity is a sign that you need to see your dentist right away. Sensitivity near a dental implant could be caused by a minor issue or a much larger problem with severe consequences, but the only way to know for sure is to visit your dentist for an examination. Here's what you need to know about sensitivity in dental implants in Dallas and what you should do if you experience this uncomfortable sensation.
What Should Dental Implants Feel Like?
Dental implants are widely considered the best solution for tooth loss because they replace practically every part of a missing tooth both above and below the gumline. However, one thing they can't replace is the nerve of the missing tooth. While you'll still be able to feel sensations like temperature and pressure, it won't be from the dental implant itself. Instead, this information is gleaned from the teeth and gum tissue surrounding the dental implant that have nerves. Other than that, a dental implant should feel as reliable and comfortable as a natural tooth.
Causes of Dental Implant Sensitivity
Without a nerve at its center, a dental implant cannot feel sensitivity. So, where is that uncomfortable sensation coming from? In general, if you're feeling dental implant sensitivity, it's likely due to a problem somewhere around the implant, such as:
An issue in the surrounding tissues: It can be difficult to pinpoint exactly where in your mouth the sensitivity is coming from. For instance, cavities, damaged enamel, and gum disease can cause sensitivity. If a tooth next to your implant or the gums surrounding it has one of these issues, it could feel like your dental implant is sensitive.
An issue at the dental implant site: While problems with dental implants are very rare, they can happen. If the sensitivity isn't coming from the surrounding tissues but rather the implant site itself, it's likely that a condition called peri-implantitis is to blame. This infection around the dental implant post resembles gum disease in that it causes inflammation, sensitivity, redness, and a risk of permanent damage.
What to Do If Your Dental Implant Feels Sensitive
Sensitivity near your dental implant could be caused by something as simple as a cavity or as serious as peri-implantitis, so it's essential that you visit your dentist right away if you begin to notice any symptoms. No matter what issue it is, diagnosing it sooner rather than later will likely save you a tremendous amount of time, money, and discomfort later on.
About the Practice
If you're looking for excellent dental care with a personalized touch, look no further than Lincoln Park Periodontal and Dental Implant Group. Their team of specialists utilizes years of advanced training, state-of-the-art dental technology, and one-on-one attention to ensure that their patients receive nothing but the best when caring for their smiles. As periodontists, they have completed extensive training in implant dentistry, so don't hesitate to reach out to them if your dental implant feels sensitive. They can be reached online or at (214) 691-2614.
Comments Off

on What to Do If Your Dental Implant Feels Sensitive
No Comments
No comments yet.
RSS feed for comments on this post.
Sorry, the comment form is closed at this time.