December 13, 2021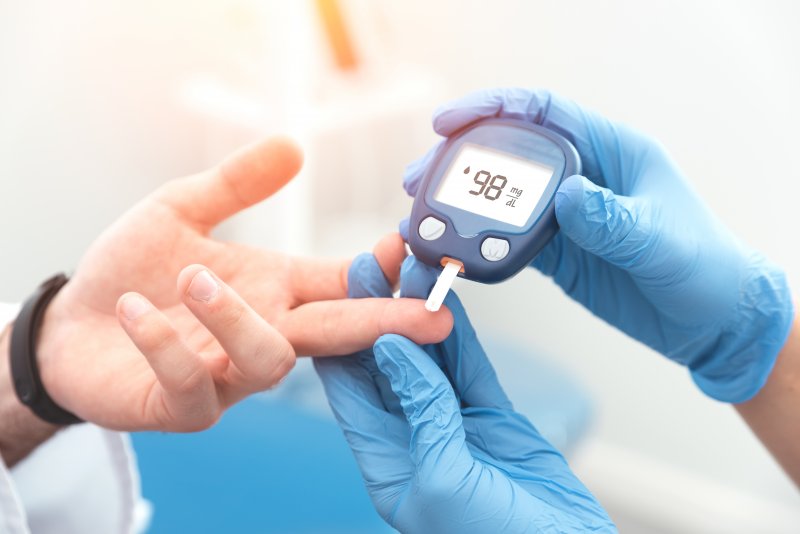 If you have diabetes, you probably already take many precautions to ensure your blood sugars are monitored closely. However, did you know that people with diabetes carry a heightened risk for developing dental diseases like gum infections? While this can be unfortunate to hear, there are steps you can take to reduce your risk moving forward according to periodontists (or specialists in gum health). Keep reading to learn more so you can protect your smile!
How Diabetes Can Affect Your Gums
What many people don't realize is when diabetes goes unmanaged, it can take a toll on the mouth. For example:
You may have less saliva, which causes dry mouth. This makes it easier for oral bacteria to grow and develop, which also increases your risk for cavities and gum disease.
The gums can become more easily inflamed and bleed more frequently.
Wounds take longer to heal.
Infections inside the mouth (not just gum disease) can become more common.
More sugar particles may be present in the mouth at any give time since the body cannot process them as quickly as the average person. This can lead to bad oral bacteria getting more fuel to cause infections.
Due to having a more compromised immune system, oral infections can be more likely.
For these reasons and more, it's incredibly important to manage your diabetes closely and ensure you're receiving your insulin dosage on a regular basis. If you are a diabetic and have gum disease, you should start to see your glucose levels begin to stabilize following dedicated dental treatment, whether it's through antibiotics, deep cleanings, or oral surgery.
Important Tips to Keep in Mind
Of course, it's always best to prevent gum diseases and other oral health problems from the beginning if you have the opportunity to do so. Below, you'll find a few quick ways to get started:
Maintain a vigilant at-home oral care routine that involves brushing twice a day with fluoridated toothpaste and flossing at least once a day.
Be sure to brush for at least two minutes at a time.
Use a soft-bristled toothbrush and gentle strokes to clean your teeth, especially along the gum line.
Visit the dentist at least once every six months for a routine checkup.
Let the dentist know if you are experiencing red, sensitive, or bleeding gums.
By following a few simple tips, you can keep your diabetes in check while also protecting your smile!
About Lincoln Park Periodontal and Dental Implant Group
At Lincoln Park Periodontal and Dental Implant Group, Dr. Barnett and Dr. Goldberg are highly experienced in helping patients with preexisting conditions manage their oral health and treat issues if they develop, including gum disease. If you are diabetic and have questions about your oral health or need guidance from certified periodontists, please contact their office through their website.
Comments Off

on How Does Having Diabetes Affect Your Risk for Gum Disease?
No Comments
No comments yet.
RSS feed for comments on this post.
Sorry, the comment form is closed at this time.