May 12, 2021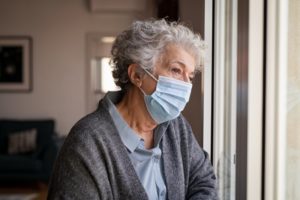 It has long been established that certain medical conditions, including heart disease, morbid obesity, and chronic lung disease, can increase the risk that an individual will suffer from severe COVID-19. But recent research has made it clear that another condition should be added to that list: periodontitis (the advanced form of gum disease). In this blog post, we'll touch on the highlights of that research and discuss what you may be able to do to fight gum disease in Dallas.
Gum Disease Increases the Risk of Severe COVID-19
A study published in the Journal of Clinical Periodontology considered 568 COVID-19 patients. It was found that people with periodontitis are nine times more likely to die, 3.5 times more likely to be admitted to the intensive care unit (ICU), and 4.5 times more likely to need a ventilator than otherwise healthy COVID-19 patients. They also discovered that periodontitis is linked to increased levels of white blood cells and certain types of proteins that are associated with worse disease outcomes.
Why the Connection?
The researchers behind the aforementioned study believe that the connection between periodontitis and severe COVID-19 boils down to inflammation. Periodontitis causes increased inflammation throughout the body. That inflammation, combined with inflammation from COVID-19, can spark what is called a cytokine storm. Cytokines are molecules that play a role in allowing your cells to communicate with one another. They are an important part of a healthy immune system. However, when too many cytokines are released, it can kill bodily tissues and cause organ damage.
What You Can Do
The above information paints a grim picture, especially given the fact that roughly half of U.S. adults suffer from some form of gum disease. Even more troubling is the fact that elderly ones who are already at an increased risk of severe COVID-19 are also among those most likely to develop periodontitis.
It is important that you do all you can to keep your gums healthy! Here are some tips to help you do so:
Prioritize oral hygiene. Twice-daily brushing and once-daily flossing can do much to decrease the risk of gum disease.
Eat a balanced diet. Green tea, leafy greens, and whole grains are among the foods that can support gum health.
Look out for symptoms. Common symptoms of gum disease include swollen gums that bleed easily, bad breath, and gum recession. If you notice that your gums may be suffering, visit a periodontist in Dallas (a dentist who specializes in gum health) right away. They may recommend that you receive periodontal therapy.
Periodontitis is a serious condition by itself, but when it is combined with COVID-19, it is especially worrisome. Protecting your smile could save your life!
Meet the Practice
Drs. Marshal Goldberg and Andrew Barnett are the periodontists at Lincoln Park Periodontal and Dental Implant Group. They have many years of combined experience and use the latest technology to provide a range of periodontal services, including both nonsurgical and surgical gum disease treatments. To learn more about them and how they may be able to help you enjoy healthy gums and a healthier body, contact our practice at 214-833-5755.
Comments Off

on Gum Disease and COVID-19: The Concerning Connection
No Comments
No comments yet.
RSS feed for comments on this post.
Sorry, the comment form is closed at this time.