April 5, 2021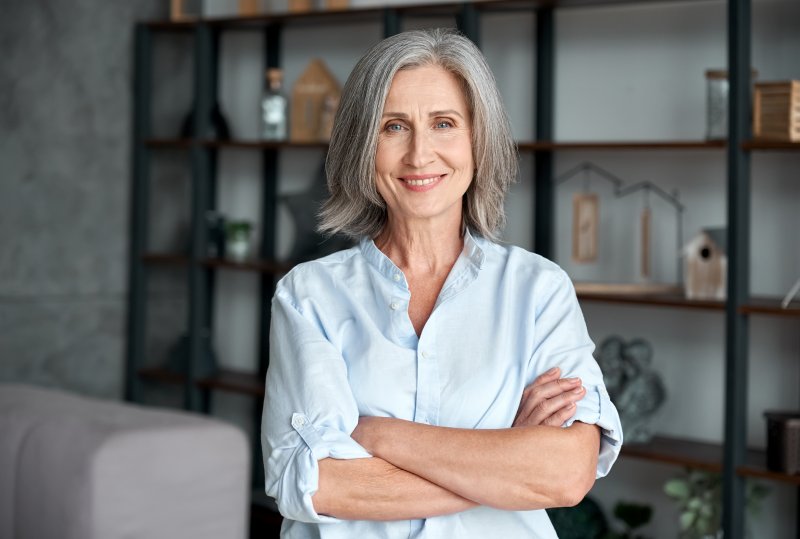 Although tooth loss presents many problems for the person who is missing one or more teeth, trying to decide how to replace them can cause much confusion and uncertainty. Between fixed bridges, traditional dentures, and dental implants in Dallas, it can be difficult determining which option will not only restore your smile but also boost your confidence. A local periodontist is here to shed some light on the topic and provide 3 unique ways your mental health will benefit when you choose dental implants.
You'll View Eating Differently
Whether you've been wearing dentures or are simply living without any prosthetics right now, eating and chewing may be one of your least favorite activities. Dentures often slip or fall out and trying to consume foods that are coarse or dense can be impossible without teeth. Fortunately, with dental implants, you can eat all the foods you love. Once an implant dentist in Dallas surgically places your implants, they will begin to fuse with your jawbone, creating a solid and stable foundation. As a result, you don't have to worry about them falling out while eating among family and friends. You can now go out to lunch or dinner or host a family gathering and feel confident in your ability to eat once again.
You'll Embrace a More Youthful Appearance
When teeth are missing for too long, the jawbone will deteriorate over time, causing your face to change shape and appear more "sunken." With your lips drawing inward and cheeks and jowls beginning to sag, you will begin to look much older. And while dentures can help to fill these areas of your face, they do nothing to stimulate your jawbone, causing it to weaken further. But with dental implants, a periodontist in Dallas can help you recapture a more youthful appearance. Because of the continuous stimulation delivered to your jawbone each time you bite down or chew, this will keep your facial structure and features from "collapsing" and help you to look younger than you are!
You'll Visibly See No Difference Between Your Real and Artificial Teeth
Gaps throughout your smile can be quite noticeable, especially if your missing teeth are in areas with the most visibility. With dentures, the materials have improved over the years to look more natural, but many patients still feel embarrassed that others will notice they're wearing false teeth. Because dental implants mimic the natural tooth structure from root to crown, most people can't tell the difference between your real and artificial teeth. The realistic look of your custom restoration will allow for a beautifully blended appearance, and the integration of the implant with your gum tissue and bone will never leave others second-guessing the authenticity of your smile.
When you consider how dental implants are capable of improving not only your oral but also your mental health, it's easy to see why they're viewed as the gold standard for tooth replacement.
About the Authors
Dr. Andrew Barnett and Dr. Marshal Goldberg are two trusted periodontal specialists in Dallas who are committed to rebuilding and restoring smiles. With the help of dental implants, they can replace missing teeth to allow patients to embrace a better quality of life. From improved functionality and oral health to longevity and a boost in confidence, anyone experiencing tooth loss can expect outstanding and exceptional results. Dr. Barnett and Dr. Goldberg tailor all treatment plans to each individual, making sure every experience is a positive one. If you are looking to replace your missing teeth, visit our website or call (214) 890-7777.
Comments Off

on 3 Ways Dental Implants Can Boost Your Confidence
No Comments
No comments yet.
RSS feed for comments on this post.
Sorry, the comment form is closed at this time.