June 14, 2023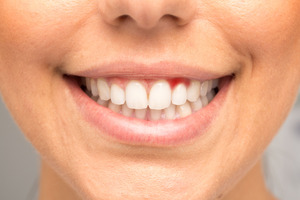 When your periodontist is examining your mouth for signs of gum disease, they may mention gingivitis and periodontitis. What do these terms refer to? Simply put, they are actually two distinct stages of gum disease, and it's important to know what sets them apart if you want to address them properly. Here's a brief look at the differences between gingivitis and periodontitis – as well as how they can both be dealt with.
How are Gingivitis and Periodontitis Different?
Gingivitis is the earliest form of gum disease. Any symptoms you notice at this point are usually mild; for example, your gums will likely become swollen, and they may bleed easily when you brush or floss.
If gingivitis is ignored for too long, it eventually becomes periodontitis, which is much more severe. It often causes pockets to form between the teeth and gums, creating a space where harmful bacteria can easily accumulate. Periodontitis can damage the bone tissue holding your teeth in place and can ultimately leave you with an incomplete smile.
In general, gingivitis is reversible while periodontitis can only be managed. In other words, it's much easier to deal with gum disease while it's still in its early stages, so be proactive about seeking care.
How Can Gingivitis Be Treated?
Sometimes all it takes to treat gingivitis is to simply be much more careful about your oral hygiene. Brushing twice a day is important, of course, but you also need to make sure that you're flossing regularly; otherwise, plaque and food particles may start to build up in the spaces between your teeth. Don't forget to visit a dentist every six months (or more often depending on your needs) for thorough cleanings.
How Can Periodontitis Be Treated?
You'll need a periodontist's help to keep periodontitis under control so that it doesn't cause further damage to your mouth. Oftentimes, a process called scaling will be used to get rid of the plaque and tartar that have built up around your tooth roots and the gumline. Afterward, root planing is performed; this involves smoothing out the tooth roots so that bacteria can't build up on them as easily.
After scaling and root planing, your periodontist may recommend following up with antibiotic therapy. Even after a deep cleaning, harmful bacteria may still be present; antibiotics are the most reliable way to treat them wherever they may be hiding.
Whether your gum disease is still in the gingivitis stage or has already turned into periodontitis, you shouldn't waste any time getting the treatment you need. Protect your entire smile by making sure your gums are properly cared for!
About the Author
Dr. Andrew Barnett earned his Certificate in Periodontics at the University of Michigan. As a periodontist, he keeps up to date with the latest techniques for treating gum disease. At Lincoln Park Periodontal and Dental Implant Group in Dallas, he offers scaling and root planing for patients suffering from periodontitis. To schedule a consultation with Dr. Barnett, visit his website or call (214) 691-2614.
Comments Off

on Discovering the Difference Between Gingivitis and Periodontitis
No Comments
No comments yet.
RSS feed for comments on this post.
Sorry, the comment form is closed at this time.